Outrage Erupts After Police Handcuff Black Teen While Taking Out The Trash As His Father Begs For Explanation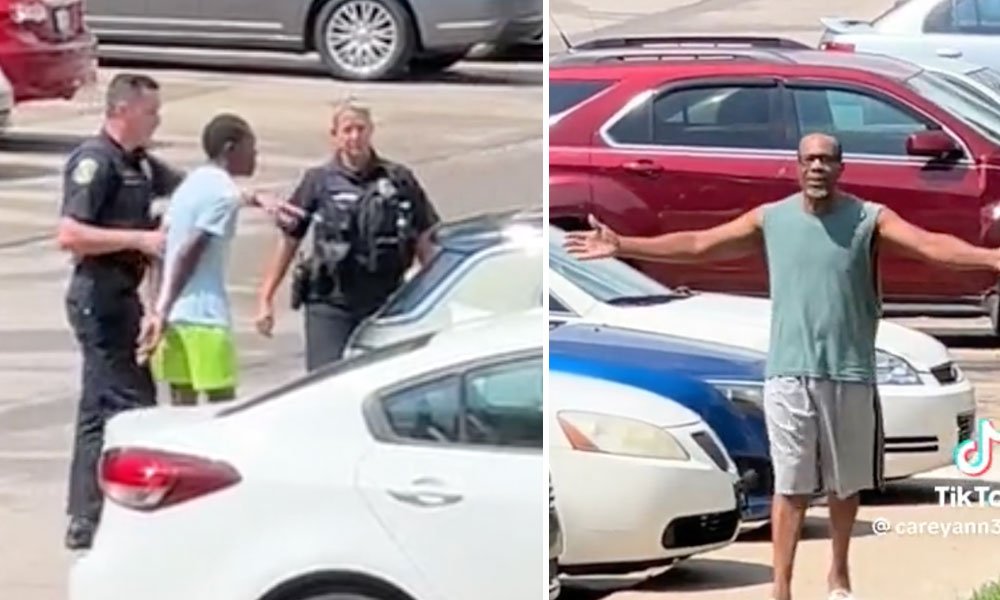 Public outrage has surged in response to a video showing police officers handcuffing a black teenager as he was in the act of disposing of household garbage.
Lansing police allegedly approached the child, and in what may be a case of mistaken identity, handcuffed the teen and was questioning him. When the child's father arrived on the scene after he had handcuffs placed on him, he was placed in the back of the squad car.
During the incident, Lansing police allegedly approached the child, handcuffed him and started questioning him. Adding to the tension, the teenager's father arrived at the scene and vehemently demanded an explanation for the officers' actions while the teen was placed in the rear of a police squad car. Upon the removal of restraints from the teenager, the father challenged the officers to provide an account for their behavior.
Despite widespread public anger and the video's rapid circulation on various social media platforms, the Lansing police department has refrained from issuing an official response.
Check some of reactions on social media below.
Just a kid taking out the trash—America pic.twitter.com/OhNWTbCnqA

— Kenny Akers (@KeneAkers) August 11, 2023
This city is paying 6 police officers to arrest a child for throwing out garbage.

— Frank Giugliano (@nyccookies) August 11, 2023
I'm so angry

— LisaMarie (@RedactedRosalia) August 11, 2023
Thank God they let him go, and they didn't attack his dad. There was a second where I thought this would go a different way.

What is wrong with the police that they don't turn up when they're needed, but they thrown that many officers at a kid for taking out trash?

It happened…

— 👑Rebecca Bardess • Coach • Web OG • Chess Legend (@rebeccabardess) August 11, 2023
This is literally my biggest fear. Having my little brother take the trash out and boom, for no reason the cops are putting him in handcuffs. On top of more cops pulling up. The excuse is always we got a call, he fits the description. Shit hurt my heart just watching man 🤦🏾‍♀️

— trapback_bri (@trapback_bri) August 11, 2023
ABSOLUTELY SICKENING…. NOBODY IS SAFE ANYMORE. ESPECIALLY IF UR SKIN TONE IS BROWN/ DARK SKIN💔

— ZaeTruth (@ZaeTruth) August 11, 2023
Sad. When I grew up the cops were part of the community half the time knew your parents. They didn't try to ruin your life! They called the parents and back then we respected them and told them the truth. How the trust has changed things. The police need the community too.

— Natalie💙🌊 (@nakita1971) August 11, 2023
Incidents like this happen every day somewhere in the United States. It's fucked-up. The child was prejudged and determined to be a criminal.

— Ruby🆘VetsResistSupport #DemCast (@Ruby74698396) August 11, 2023
I hope he sued tf outta them.

— Trey A Woodhouse. (@CoachDoggieDogg) August 11, 2023
Who do you call, when the #POLICE are the problem?

Why don't those cops look for a REAL criminal who's killing or raping, or ripping-off people, like #Trump.

It's easier to intimate a kid who's doing nothing.

Police in America are a failure. #PoliceReform #ResistanceUnited

— Samia Ali Salama ✍️ (@SamiaAliSalama8) August 11, 2023
…..this is so wrong on so many levels! They just traumatized this child and for what? 😡😡🤬

— Sharolyn (@bunnieshottips) August 11, 2023