Sparks Fly At Missouri House Floor After Republicans Go 'Full Taliban' On Women With New Dress Code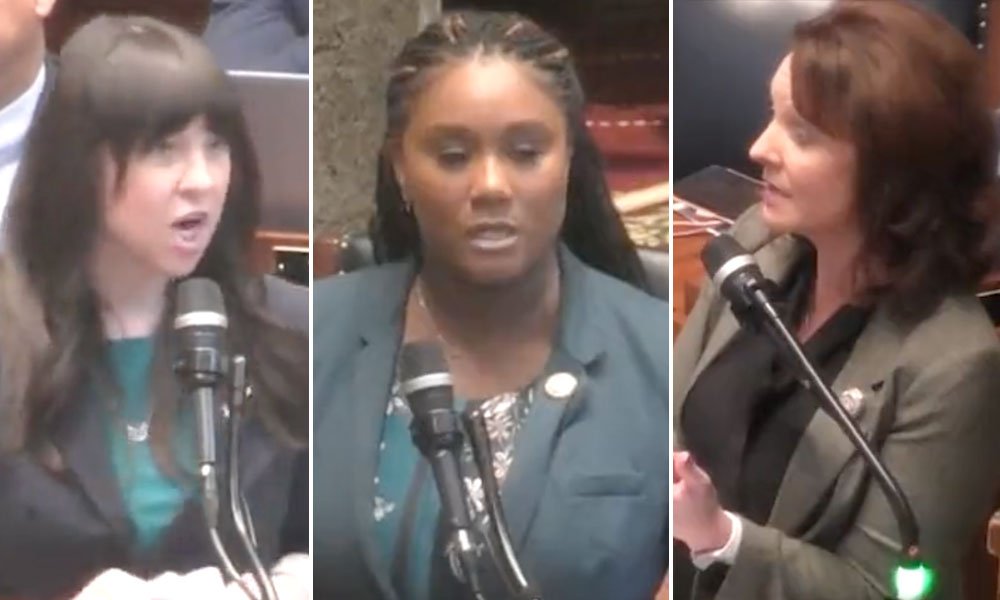 Missouri Republicans are being eviscerated for imposing a rule that requires female lawmakers to cover their arms in the state House.
During the debate, Democrats tore into their GOP colleagues over the new dress code regulation.
"There are some very serious things within this package that we should be debating, but instead we are again fighting for a woman's right to choose something and this time it is how she covers herself and the interpretation of someone who has no background in fashion," Democratic state Rep. Raychel Proudie said on the floor during the heated debate.
State Rep. Ashley Aune (D) blasted GOP Rep. Ann Kelley, who sponsored the new rule, saying: "You know what it feels like in this room to have a bunch of men in this room looking at your top to decide whether it's appropriate or not?"
Aune added that the entire debate was "ridiculous."
At this point, Kelley appeared to have grown frustrated. She then retorted that it was indeed "ridiculous" that her colleagues were engaging in such a heated debate over her proposed changes.
"Lady, you're right, it is ridiculous," Kelley said. "It is absolutely ridiculous that we have to talk about it on the House floor in the House chamber. Why should we even talk about something like this?"
Aune responded by pointing out that it was Kelley's proposal that started the debate.
"You brought this to the floor, lady. You tell me," she said.
Videos of the debate posted on Twitter triggered an avalanche of negative responses.
MO State Rep. Proudie (D) goes after GOP House members pushing a dress code for women — requiring they wear jackets — in a rules bill.

"I spent $1,200 on a suit, and I can't wear it in the People's House because someone who doesn't have the range tells me that's inappropriate." pic.twitter.com/uORB2OWTXW

— Heartland Signal (@HeartlandSignal) January 11, 2023
In response to MO State Rep. Ashley Aune (D) questioning the need for the dress code amendment, sponsor Rep. Ann Kelley (R) says, "You would think that all you would have to do is say, 'dress professionally' and women could handle it!" pic.twitter.com/75gbaGnzZu

— Heartland Signal (@HeartlandSignal) January 11, 2023
Would any Republican bring a bill to the floor detailing what is and isn't appropriate for male members to wear? Absolutely not. As a MO taxpayer, this is an obscene waste of time and money. The GOP needs to get over it's need to control everything women do or wear.

— Amy Barrett 🐈‍⬛🎹🧶🎨🤘🏻 (@STLProgressive) January 13, 2023
The American TALIBAN.

— Bob (@ChristheMagicRa) January 13, 2023
Sleeveless dresses/tops are not UNprofessional. So they can't wear a short sleeve dress or top? WTF!

— Nanette (@NanettesZone) January 13, 2023
The GOP: fighting hard for solutions to problems that do not exist

— Paramourning☀️🌊 (@dustybew) January 12, 2023
This would suffice, I'm sure. pic.twitter.com/cbhESJ4zXb

— JMPanz⚾️ (@JeannePancurak) January 12, 2023
And "Sleeves" are the Issue??? …..Missouri ranked 28th out of 50 states in measures of children's economic well-being, education, health and their families and communities. Missouri slipped down from 26th in the 2018 data book.

— Larry (@guessmator) January 13, 2023
Republicanism, it's about controlling women.

— 8 Lincoln 30 🦃🍂🍃 (@Hotsauce365) January 12, 2023
— Stop the GQP Fascists & Traitors🇺🇦 (@RelevantThinker) January 13, 2023
Ooooo, so triggered by women with bare arms…
They must pass out when they see Bobo & Taylor Obscene on the US House floor with flashing their biceps…
Up next, Congressional hoods for girls.

— Really_Polly "Get Your Vaccine" (@really_polly) January 12, 2023
i found picture of @annkellymo inspecting the Other female house members pic.twitter.com/n0DM8GbCBf

— mike resnick (@mikeresnick8) January 13, 2023