Unable To Attack Jackson's Qualifications, Republicans Make It Clear That Their Issue Is About Race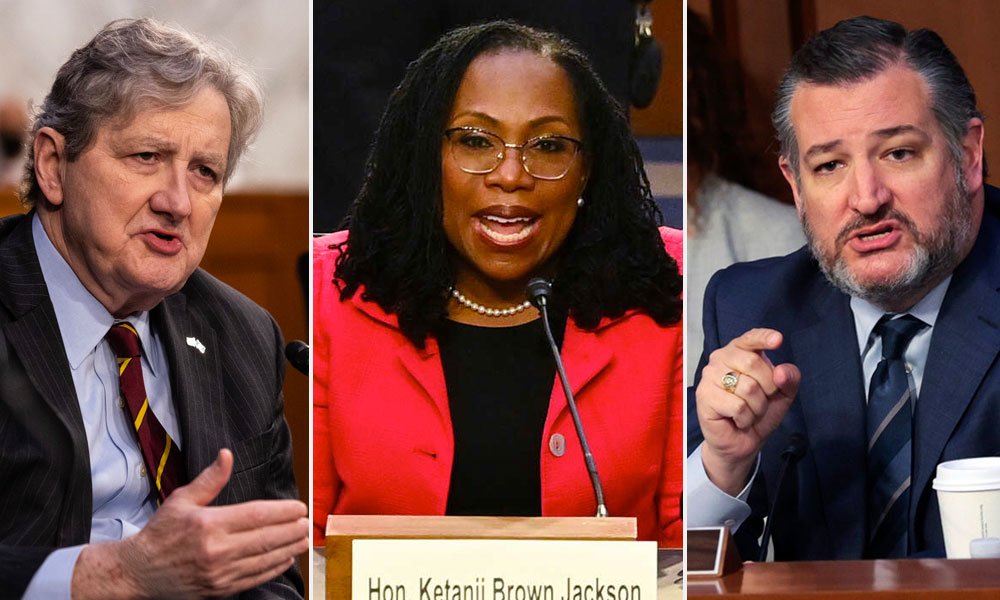 Republicans are having a hard time trying to paint President Joe Biden's Supreme Court nominee Judge Ketanji Brown Jackson as an unqualified liberal activist judge. In fact, her qualifications are so over the top that GOP senators didn't even attempt to bring it up during 2 days of questioning, and instead tried to disparage Jackson's record.
On Monday, Sen. Josh Hawley (R-Mo.) suggested that Jackson goes easy on people accused of child pornography, a claim that even the conservative outlets slammed as "outrageous".
Running out of options to score political points out of Biden's nominee, Republicans decided to go full theatrical and feed their base with the red meat they crave: Racism.
On Monday, Sen. Marsha Blackburn (R-TN.) suggested in a tweet that the Jackson nomination was a Trojan horse for that most nefarious of concepts … "critical race theory."
On Tuesday, Sen. Ted Cruz (R-TX) drew the ire of the internet over his denigrating questioning of Jackson and for trying to distort her views on critical race theory.
While legal experts were quick to slam Cruz's disparaging behavior toward Jackson, it's very important to recognize what the party is doing here.
They are pushing "Critical race theory" (CRT) as a dog whistle. A cloaked way of talking about the conservative perception that Whites are at risk of being diminished in American society without being explicit about that perception.
What Republicans are doing is intentionally implying that a Black nominee for the Supreme Court will most likely bring an anti-White agenda to the highest court in the land.
Even before she was nominated by Biden, Republicans spent a great deal of time and energy on conservative media outlets slamming the president for pledging to nominate a Black woman, suggesting that it was an un-American form of affirmative action.
Once nominated, however, Jackson's experience made it hard for them to cast her as a beneficiary of charity. So it didn't take long for the real reason for their opposition to Jackson to be revealed.
What really triggered Republicans is that Biden chose to give a non-White woman the same power enjoyed almost entirely by White men since the 1780s. They don't see it as leveling power structures but as taking power away from White men.
Every part of their opposition to Jackson's nomination is about race, and they are trying to pretend that it isn't.