Trump Spoke With Marjorie Taylor Greene Ahead Of Jan 6 Riot: Newly Published Texts Reveal Scope Of Plot To Overturn 2020 Election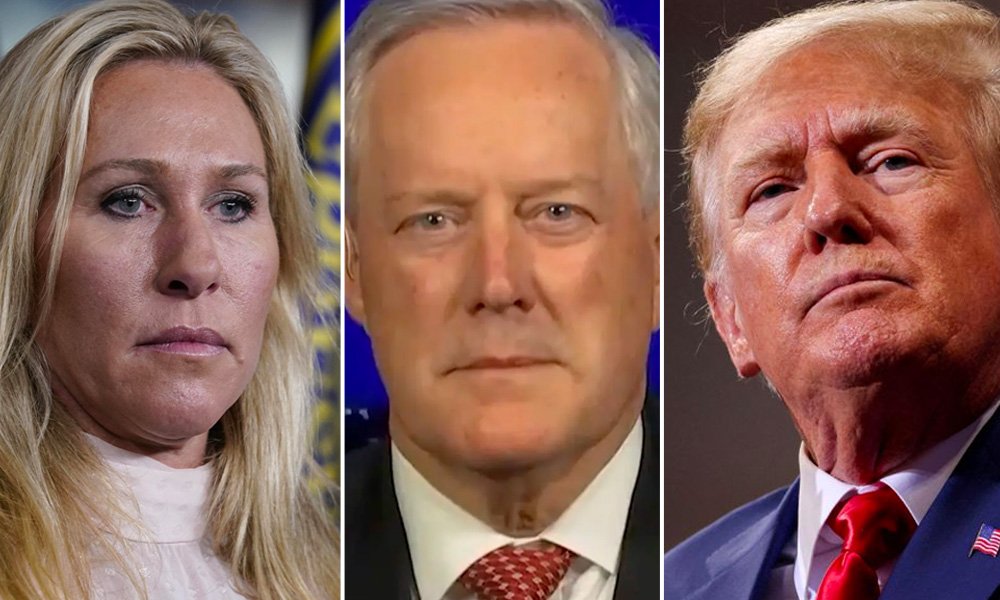 Newly published text messages sent to Mark Meadows have shed new light on the extensive plot by Donald Trump and his allies to deny Joe Biden's electoral victory and keep Trump in power. The texts also revealed that Trump "spoke" with Georgia Representative Marjorie Taylor Greene before the January 6 attack on the US Capitol.
The messages, published in a new book first reported by The Guardian, were given by former White House chief of staff Meadows to the House select committee investigating the attack on the Capitol and include a group chat with Trump cabinet officials and plans to object to Biden's certification on Jan. 6 by GOP members of Congress and a former U.S. attorney.
While many of Meadows' texts have already been made public, the new messages disclosed in The Breach by former Republican congressman Denver Riggleman show alarming evidence of how MAGA operatives in all three branches of government were attempting to come up with plans to thwart the election result being certified, the book claims, according to The Guardian.
According to Riggleman, "Rick Perry, Trump's former energy secretary, texted a group chat that included Meadows; the housing secretary, Ben Carson; and the agriculture secretary, Sonny Perdue, that Trump should not concede."
Republican congressman Jody Hice messaged Meadows to say he would be "leading" his state's "electoral college objection on Jan 6" and that Trump "spoke" with Marjorie Taylor Greene about the plan for that day.
North Dakota's then-US attorney, Drew Wrigley, offered his own advice for overturning the results, writing that Trump should "demand state-wide recount of absentee/mail-in ballots in line with pre-existing state law with regard to signature comparisons. "If state officials refuse that recount, the legislature would then act under the constitution, selecting the slate of electors."
The text from Wrigley set a plan in motion to send fake electors to Congress on January 6 to have the then vice-president, Mike Pence, refuse to certify Biden's win. The scheme is now part of a criminal investigation by the US attorney in Washington DC.
This is significant since the justice department is supposed to remain above the political fray. Wrigley's note appears to mark an instance of a federal prosecutor endorsing a legally dubious scheme to overturn the 2020 election. Wrigley is now the North Dakota state attorney general.