Trump Rioter Carrying Zip Ties On Senate Floor Identified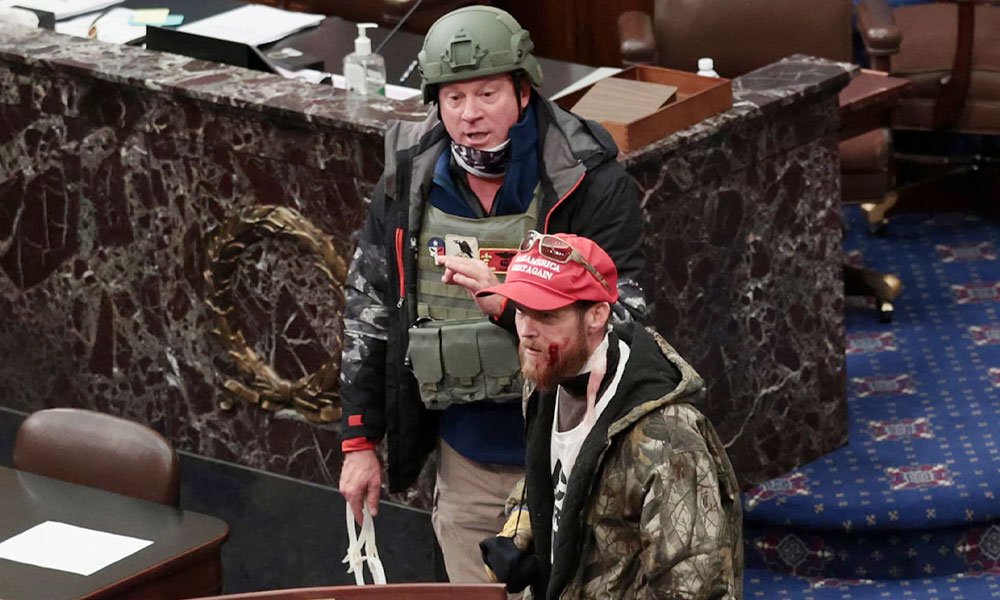 A supporter of Donald Trump who stormed the Capitol with zip ties was identified as a retired lieutenant colonel in the Air Force Reserves, according to Fox News.
Larry R. Brock Jr. confirmed to the New Yorker on Friday that he was the man pictured wearing a helmet and military gear on the Senate floor.
"The president asked for his supporters to be there to attend, and I felt like it was important, because of how much I love this country, to actually be there," Brock told the New Yorker, adding that he intended to do so peacefully.
According to Brock's family members, who spoke with the New Yorker, the retired lieutenant colonel has a history of racist behavior.
As Fox News reports, "family members of Brock told the news outlet that he had used racist language in their presence and his pro-Trump views had veered further to the right in recent years."
The Air Force confirmed to Fox News that Brock entered the military in 1989 and became part of the Air Force Reserve in 1998. He served as an A-10 pilot until 2007 and retired in 2014.
"As a private citizen, we no longer have jurisdiction over him," the Air Force said in a statement to Fox News.
RELATED: GOP Lawmaker Who Was Arrested For Participating In MAGA Riots Just Resigned