Trump Post Goes Viral After Suffering Another 'Covfefe' Moment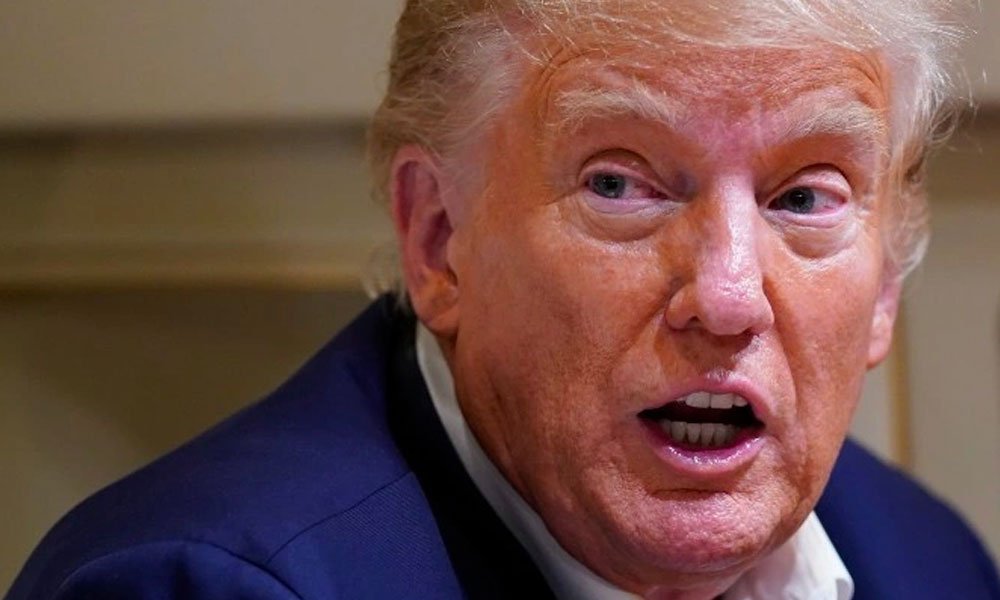 Donald Trump, known for disseminating unfounded allegations about his political adversaries, experienced another instance akin to his infamous "covfefe" moment on Monday when he attempted to circulate a speculative rumor concerning Florida's governor, Ron DeSantis.
The former president shared a piece of gossip, which he misspelled as a "roomer," suggesting that Florida Governor Ron DeSantis might withdraw from the Republican presidential primary to contest Senator Rick Scott (R-FL) for a U.S. Senate seat.
"Roomer (sic) are (sic) strong in political circles that Ron DeSanctimonious, whose Presidential run is a shambles, and whose poll numbers have absolutely crashed, putting him 3rd and 4th in some states, will be dropping out of the Presidential race in order to run, in Florida, against Rick Scott for Senate," Trump wrote on Truth Social. "Now that's an interesting one, isn't it?"
The source of Trump's information about DeSantis remains unclear, but Twitter users seized upon the misspelled "roomer" and perpetuate its circulation.
Illiterate and incoherent traitorous mobster.#Roomer pic.twitter.com/GtoHXl3cjQ

— John Pavlovitz (@johnpavlovitz) August 28, 2023
Apparently Wharton School doesn't teach you spelling either. "Roomer" fucking idiot. pic.twitter.com/6Ahx5eBGjZ

— Amy Lynn🐇💀 (@AmyLynnStL) August 28, 2023
Apparently Trump 2.0 is not a better speller than Trump 1.0.

"Roomer are strong"?

I sort of agree. 'Roomers' are pretty strong. They have to deal with rising rent prices while also living with people they don't know, in the same home.

'Rumors,' however, are not strong that… pic.twitter.com/26Y4qljamF

— Brian Krassenstein (@krassenstein) August 28, 2023
Roomer has it @realDonaldTrump's dictionary has been stollen. pic.twitter.com/wwo53zJ2Ug

— Piyush Mittal 🇺🇸🇺🇦🟧🌊 (@piyushmittal) August 28, 2023
Donald Trump: "I'm a very stable genius. I watch my words very, very carefully."

Covfefe
Hamberder
Stollen
Roomer
Bidin
Melanie
Ridiclious
Unpresidented
Indicated
Open boarders
Patrioticly
Incompentence
Thigh Land
Smocking gun
Yo Semite
Ranparts
Transpants
Muderer
Womem
Bigly https://t.co/39MnmjBV3R pic.twitter.com/zGpZ9CjISq

— Tomi T Ahonen Is A Faschist Roomer, Stollen Bigly (@tomiahonen) August 28, 2023
Roomer are strong in political circles that Trump is illiterate. pic.twitter.com/u9anVqEGKi

— 𝕋𝕙𝕚𝕤𝔾𝕦𝕪 🌐 (@ShitzN_Giggles) August 28, 2023
Holy Covfefe!
Roomer has it Donny is fwightened but still a raging imbecile…Man ,Woman, Covfefe, Stollen, Roomer pic.twitter.com/dLaSlwoGYj

— Longjacket 💔🟧💙 (@Longjacket2) August 28, 2023
"Roomer" 😂 How stoopid would you have to be to still support this moron? pic.twitter.com/pJY85WJd2J

— Angry🇺🇸American🖕 (@AngryRisbell72) August 28, 2023
Trump unleashed the "covfefe" word on the world on May 31, 2017, when he tweeted out a confusing partial sentence shortly after midnight.
"Despite the negative press covfefe," the tweet read, and nothing more.
He deleted the tweet after it went viral. Not helping the matter was then-Press Secretary Sean Spicer's insistence that covfefe made sense. He said people shouldn't be concerned about the tweet and the fact that it was up for hours.
"I think the president and a small group of people know exactly what he meant," Spicer said at the time.