Texas Republicans Tell Voters To 'Take Off Your Masks' Because COVID-19 Was A Democratic 'Plot' To Hurt Trump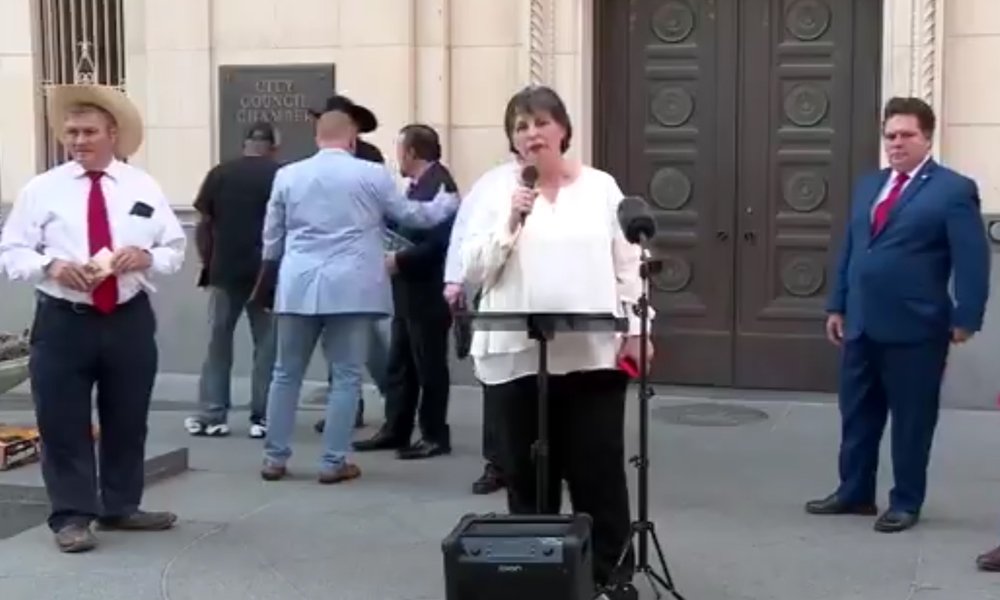 Texas Republican officials are now urging voters to remove their masks because the coronavirus was a Democratic plot to take down Donald Trump.
Republicans in Bexar County, Texas, held a press conference in front of San Antonio City Hall over the weekend to protest local lockdowns.
According to Republican Party Chair Cynthia Brehm, Mayor Ron Nirenberg and Bexar County Judge Nelson Wolff are infringing on citizens' constitutional rights by asking them to wear protective equipment and take precautions against the coronavirus.
"They asked us to wear masks, and according to Attorney General (Ken) Paxton, this is unconstitutional," Brehm said. "So if we don't want to wear masks, this is our choice. This is America, and we shouldn't have to be forced or mandated to wear a mask."
Take a look at the remarks in the video clips below:
Absolutely bizarre. The Bexar County GOP chair concludes this rally by stating that the coronavirus is a hoax perpetuated by Democrats, tells people to take off their masks, and then everyone hugs each other. pic.twitter.com/1XOFeswMiO

— Timothy Burke (@bubbaprog) May 22, 2020
Listen to this dipshit Republican official pic.twitter.com/SrGjWKKj9a

— Timothy Burke (@bubbaprog) May 22, 2020
RELATED: Right-Wing Protesters Demand Kentucky Gov. 'Come Out' Then Hang Him In Effigy Outside His House