Sekulow Gets Trolled After Adding 'Creepy Horror Music' To Video Of Dems To Try And Prove Trump's Innocence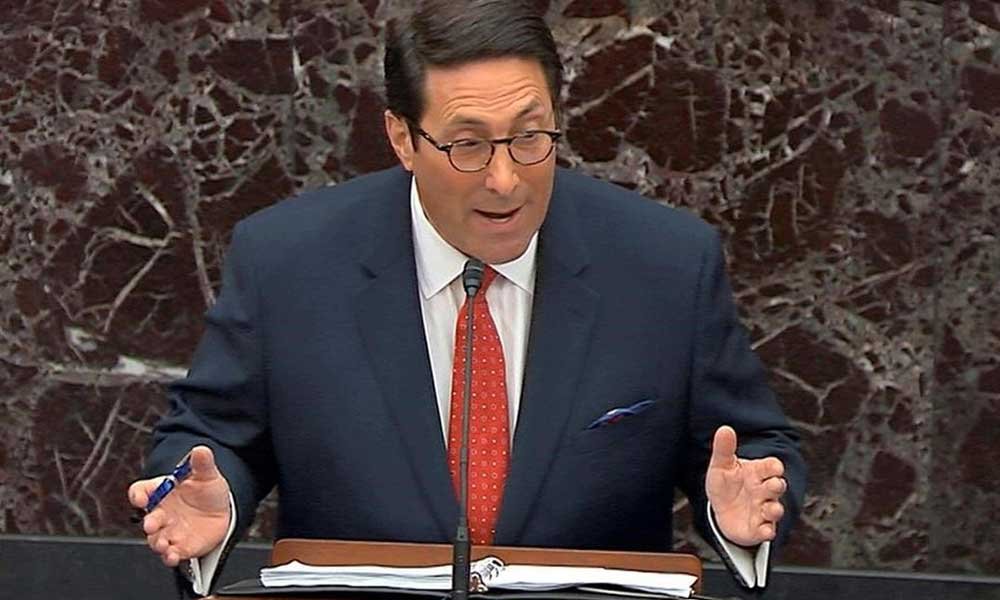 Jay Sekulow, one of Donald Trump's defense attorneys at his impeachment trial, showed a video on the Senate floor on Monday during his closing statements that contained "creepy" background music while Democratic lawmakers called for the impeachment of Trump.
Jay Sekulow: "This entire campaign of impeachment that started from the very first day the president was inaugurated was partisan and it should never happen again." pic.twitter.com/PIrcmZCVxj

— ForAmerica (@ForAmerica) February 3, 2020
The video was an attempt to show that Democrats have been coming after Trump since he took office. But that quickly backfired when people noticed that these lawmakers made excellent points as to why Trump should be removed from office.
But that's not all people noticed. Sekulow tried to fearmonger by adding ominous music to the video clip. But it did not work. Twitter users decided to call out the Republican lawyer. Here Are some of the best responses:
he just did it a little mistake .. he showed all the tRump's wrongdoings from the very first day

— Nevenka (@Nenafromsweden) February 3, 2020
Wondering who Jay Sekulow got to put that scary music on his powerpoint presentation in the Senate trial?

— Susan Glasser (@sbg1) February 3, 2020
Was the "The End Is Coming" music REALLY necessary, Sekulow? I mean, your video package of Dems listing viable reasons why your client has been breaking the law from the beginning was nice of you, but still. It's not like anyone was about to explode. #ImpeachmentClosing

— DeeTenorio (@DeeTenorio) February 3, 2020
#Sekulow
Did this MF really dub his video evidence with ominous music??

— Sittingkriz (@SittingKriz) February 3, 2020
Did the house managers put ominous mood music under any of the videos they showed? That mixtape of videos Sekulow just showed were desperately produced to push folks drama buttons. #ImpeachmentTrial

— people over profit (@debranicitweet) February 3, 2020
Omfg as if the #GOP weren't already the masters of gaslighting the video sekulow just played with its dramatic music is so preschooler. You fucking idiots. #ImpeachTrump

— Horrͪ͑̂̐ͫ̿ificB̋͆ͩ̇͛̈́ookCͫ͂ͯ̉ͦ̆̾ur̋ͥ̓ͮ̾͒̒s̓̄ͫes ☠️ (@loficook) February 3, 2020
#ImpeachmentTrials wtf with that suspensful music on that video clip from Sekulow 😂😂😂

— Mark (@raymondmark) February 3, 2020
What in the hell is this evil theme music Sekulow? You clowns! #ImpeachmentTrial

— The Tequila Drunk MF (@ProductionCog1) February 3, 2020
Sekulow now playing a video of predominately people of color calling for Trump's impeachment with music that sounds like it's from World War Z in the background.

My dude: It's not our fault that your guy crimes all the time.

— Elie Mystal (@ElieNYC) February 3, 2020
In your closing arguments for acquittal of the president you play a "campaign ad" video with ominous music? It's the fucking Senate. You treat it like reality tv. Fucking joke of a legal defense. #Impeachment

— Joshua (Tek) (@antiblank) February 3, 2020
This video Jay Sekulow is playing is the first time, I believe, this Senate impeachment trial has been shown a video including music.

¯\_(ツ)_/¯

— ((( Matt Milliken ))) immigrant's grandson, VOTER (@memomoment) February 3, 2020
Sorry, but…
What is this weird, sinister music over the voice bites calling for Trump's impeachment?

— 꿀tea🌱 d-4/d-13 (@kwoojinily) February 3, 2020
Anyone else see that Exhibit video by POTUS defense a few minutes ago, where they had added creepy horror music to a comp of dems saying they want to impeach???

Literally subliminal fear-mongering by POTUS def. on national tv… wtf#ImpeachedForLife #ImpeachmentTrialSham

— AQUARIIAN (@Aquariian_) February 3, 2020
RELATED: Trump Ridiculed Online For Congratulating Wrong State After Super Bowl