GOP Candidate Posts Ad Saying AR-15s Are 'Liberty Machines' Against 'Looting Hordes' — Facebook Removed It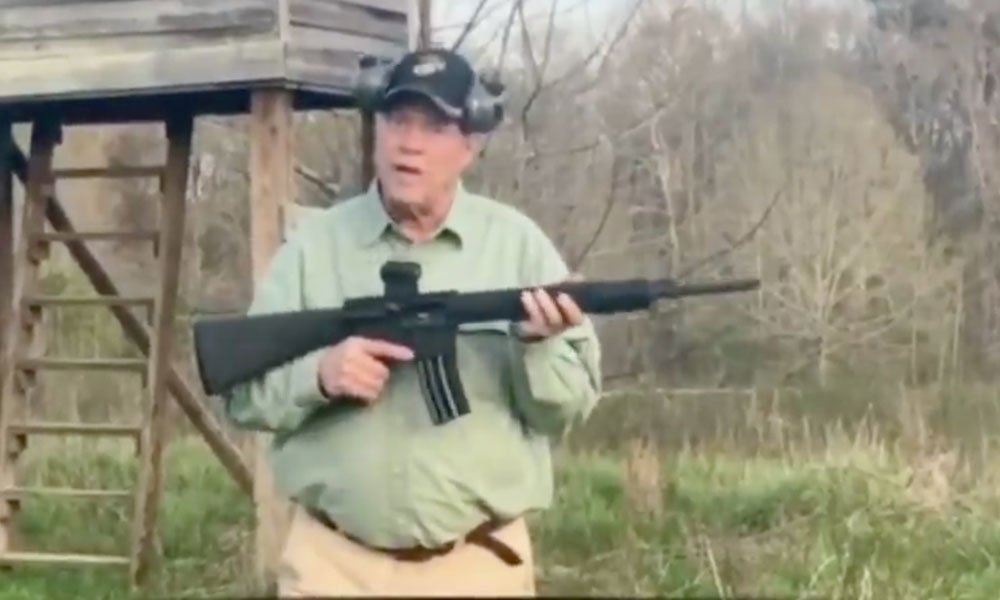 A Georgia Republican candidate running to reclaim his old congressional seat has been running campaign ads calling guns "liberty machines" to protect from "looting hordes from Atlanta." He placed the ad on Facebook but it was removed for violating our policies against inciting violence."
Former Rep. Paul Broun, a four-term congressman who was forced to retire in 2015 after a failed bid for U.S. Senate, is running in Georgia's 9th Congressional District, a safe GOP seat located in the northern part of the state. Broun posted a campaign video in early April announcing an AR-15 giveaway, in which he references the need for "liberty machines" to protect from "looting hordes from Atlanta" and a "tyrannical government."
Broun began running a similar sponsored ad on Facebook on May 29, according to Popular Information, which again features Broun saying: "Whether its looting hoards from Atlanta, or a tyrannical government in Washington, there are few better Liberty Machines than an AR-15."
After the news outlet emailed Facebook to inquire about the ad, Facebook removed it.
"We removed this ad, which advocates the use of deadly weapons against a clearly defined group of people, for violating our policies against inciting violence," Facebook spokesperson Andy Stone told the site.
Watch the ad below:
How to try to win election by stoking fear amid the COVID-19 crisis:

Former Georgia Rep. Paul Broun who is running to return to Congress just released an ad warning that "in uncertain times like these," it's important to protect yourself against "looting hordes from Atlanta" pic.twitter.com/bqS4rePrmP

— Marcus Baram (@mbaram) April 7, 2020
Your thoughts?