Mark Meadows Cold-Sweats While Trying To Explain Jan 6 Text Messages To Newsmax Host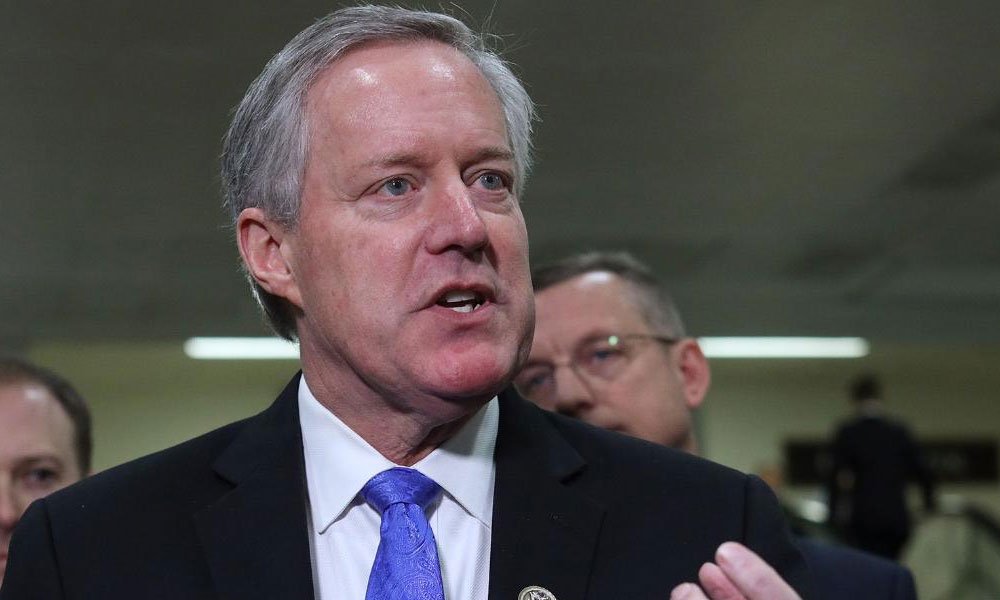 During an interview on Newsmax Monday night, former White House chief of staff Mark Meadows struggled to explain text messages he received from Fox hosts and Donald Trump Jr. as a MAGA mob stormed the U.S. Capitol on January 6.
Newsmax host Rob Schmitt started the interview by asking Meadows about the bombshell report on his cellphone communications.
"They've got reports of text messages [from the Jan. 6 committee] you gave them that show Fox [News] hosts saying, 'Hey, you gotta get this under control, Trump needs to say something. Don Jr. saying something,'" the Newsmax host said, before asking Meadows: "What's your response to all this tonight?"
Unable to come up with a objective response, Meadows claimed his messages were "weaponize[d]" by the House select committee.
"We've tried very hard, in a very transparent and accommodating way, to share non-privileged information," Meadows said. "And what we found out tonight is that not only did that just get disregarded, but then they tried to weaponize text messages, selectively leaked them, to put out a narrative that the president didn't act."
A bombshell dropped in Monday night's Jan. 6 committee hearing when it was revealed that Donald Trump Jr.—along with Fox News stars including Sean Hannity and Laura Ingraham—begged White House Chief of Staff Mark Meadows to get the president to make a national address and halt the Capitol riot.
"He's got to condemn this shit ASAP," Donald Trump Jr. texted Meadows. "The Capitol Police tweet is not enough."
However then-president Trump did nothing as his supporters stormed the Capitol, assaulted police officers and threatened to hang then-vice president Mike Pence.
Watch the interview below via Newsmax.
While Fox News' primetime stars are ignoring the texts they sent to Mark Meadows, News anchor Rob Schmitt — while saying the story is "grossly exaggerated" — does ask Meadows tonight about the texts.

Meadows says the committee "tried to weaponize text messages selectively." pic.twitter.com/W5OELNMu2z

— Justin Baragona (@justinbaragona) December 14, 2021