Accused Gilgo Beach Killer Rex Heuermann Spotted in Eerie Google Street View Photos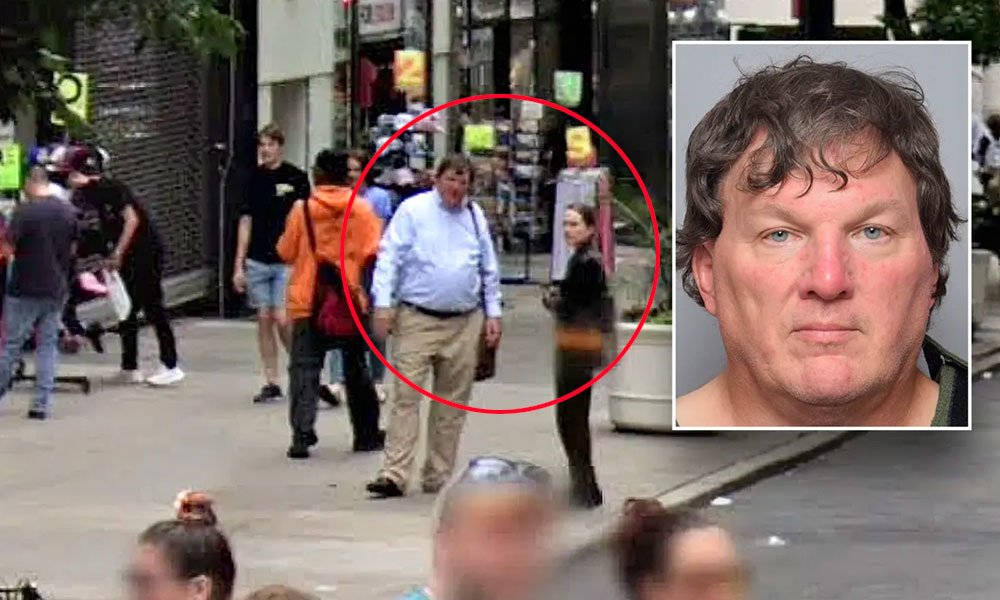 Accused murderer Rex Heuermann, known for the Gilgo Beach killings, was recently spotted in eerie Google Street View photos, appearing to engage in casual conversation with a petite woman near his Fifth Avenue office several months before his apprehension.
The unsettling image, taken in June 2022 on East 36th Street, features the imposing 6-foot-4 architect wearing the same light blue button-down shirt he wore during a YouTube interview that same year, where he discussed his architectural role at RH Consultants & Associates, his firm.
The married father of two is seen carrying the familiar over-the-shoulder brown bag he had on when discreetly arrested by authorities outside his office last Thursday.
In Midtown Manhattan, plainclothes officers surrounded Heuermann as he walked along the sidewalk, while oblivious pedestrians pay little attention to the commotion, as captured in the Google Street View footage.
These haunting images from 2022 were first discovered by online investigators.
For years, Heuermann, an unassuming architect renowned for his expertise in navigating New York City's intricate zoning and building code regulations, had been operating from his Midtown office.
"I used to frequently see him in the elevator. He seemed quite ordinary," shared a man who was a regular in the building, speaking to Fox News Digital.
Charged last week with the murders of Melissa Barthelemy (24), Megan Waterman (22), and Amber Costello (27), Heuermann is also the primary suspect in the slaying of a fourth victim, Maureen Brainard-Barnes (25), according to Suffolk County Police Commissioner Rodney Harrison.
The bodies of these women were discovered in 2010, wrapped in burlap, along a quarter-mile stretch of Ocean Parkway in Gilgo Beach.
All the victims, petite in stature, had gone missing after advertising their services on Craigslist, earning them the collective moniker "Gilgo Four."
A colleague, who had collaborated with Heuermann for two decades, described him as "very friendly and pleasant." The colleague added that he was exceptionally meticulous and kept his office impeccably organized, in stark contrast to the dilapidated state of Heuermann's home in Massapequa.
The rundown dwelling appeared to rely on two-by-fours to support its roof.
Ultimately, law enforcement connected Heuermann to the "Gilgo Four" through his Chevy Avalanche, cellphone records, and DNA evidence.
Heuermann, who has pleaded not guilty to three counts of first-degree murder and three counts of second-degree murder, is currently being held without bail.