White Supremacists Post 'Jogger' Under Obama's Pictures, Circulate Meme Saying: 'Joggers Will Shot'
White supremacists are once again aiming their hatred towards one of their favorite targets: former President Barack Obama, using a new code for the n-word: "jogger" — a direct reference to the death of Ahmaud Arbery, the young black man who was shot dead in February while he was running in a suburban neighborhood in Georgia.
Right-wing extremists have "celebrated Arbery's death in the worst places on the internet, and turned his killers into white supremacist folk heroes."
Now, according to Vice News, these extremists are targetting Obama by posting "jogger" under the former president's pictures and are sharing a meme of a black man running with the words "Joggers Will Be Shot."
Meanwhile, the McMichaels — a retired cop and his son — have been called "white heroes" on 4chan. There's a meme going around of a cartoon version of Travis McMichael, with the caption "McMichael, Defender Against the Eternal Jogger." They photoshopped the McMichaels' mugshots to make them look like they're smiling, and wearing tuxedos.
Vice noted that "over recent years, these extremists have been constructing a shared, private language that they use to dog-whistle in public, online arenas without having to worry about getting banned for hate speech," and that "Jogger" is just the latest example.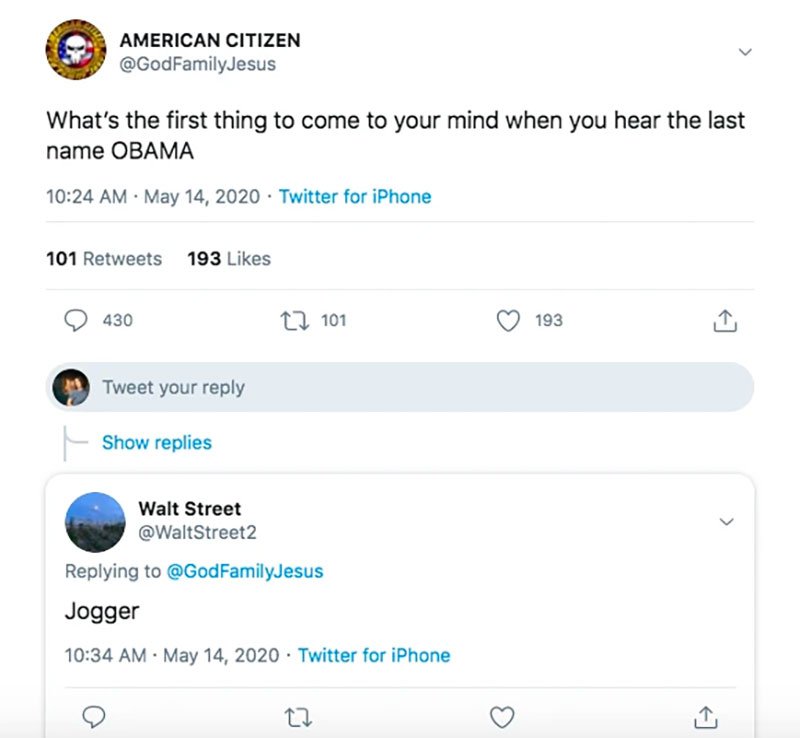 "The fact that Arbery was killed — and that white supremacists are glorifying his assailants — should come as no surprise," Brian Levin, who leads the Center for the Study of Hate and Extremism at California State University, San Bernardino, told Vice News. "It's got deep roots in the history of racism in America."
Forty years before Arbery was killed by Travis McMichael and his father Gregory McMichael in broad daylight, an avowed white supremacist murdered two black joggers using sniper fire in Missouri. Back then, white supremacists would refer to a "running n—– target," said Levin.
"The idea of running blacks out of town, running them down and lynching them because they're rumored to become sort of criminal threat, has a long history that goes back to slave patrols," said Levin. "Each generation has its own incarnation, and that's what's so awful and painful about this. But also highly predictable."