Trump Rioter Cries 'Tears Of Regret' As He Faces 20 Years In Prison Following Guilty Plea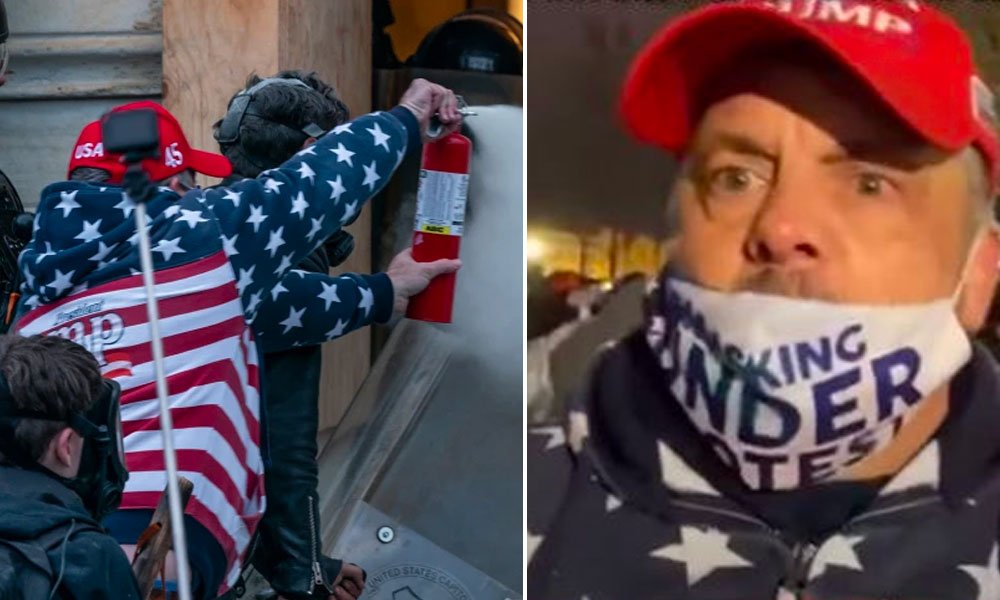 Robert Palmer, of Tampa, Florida, reportedly broke down in tears at his sentencing hearing after pleading guilty to attacking Capitol Police with a fire extinguisher at the January 6 Capitol riot while dressed in a red, white, and blue Trump jacket, local NBC affiliate WUSA9 reports.
At the hearing, palmer's defense attorney expressed his client's regret for participating in the attack, an act that may land him in prison for up to 20 years.
Palmer was originally arrested in March by federal agents after being identified by Huffington Post investigative reporters.
"Palmer told the US District Court Judge Tanya Chutkan he was the one identified in Department of Justice images who threw a wooden plank at police, sprayed a fire extinguisher at officers until it was empty, then threw the empty fire extinguisher canister at the line of police. "Before his court hearing, Palmer was not acting as tough as the man in DOJ photos, sobbing onto the shoulder of his defense attorney Bjorn Brunvand moments before the two men entered the court for Palmer to plead guilty to felony assault on law enforcement."
According to the report, Brunvand said of Palmer's breakdown, "That was Mr. Palmer being remorseful for what he did on January 6th. And also, afraid of what's to come."
More than 650 people have been charged in connection with the attack on the Capitol so far, with a number of them already pleading guilty or being sentenced. Many were turned in by their family or acquaintances.
Watch the original report below:
TEARS OF REGRET? Or what's to come? Robert Palmer of Florida sobbed on his on his attorney's shoulder before entering courtroom to plead guilty to assault on police during #CapitolRiots. There are 3 US Marshals here to take him into custody if judge orders. Faces years in prison pic.twitter.com/Uv7JtT3nvU

— Eric Flack (@EricFlackTV) October 4, 2021