Trump Retweets Video That Paints George Floyd As A 'Criminal' And 'Not A Good Person', Instantly Sparks Outrage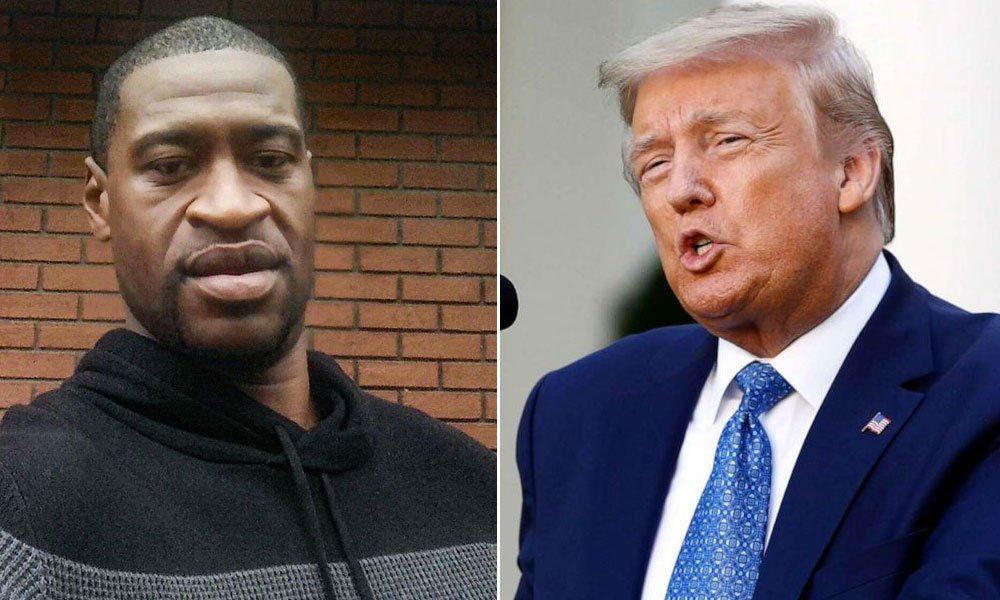 Donald Trump spent his Friday claiming that it was a "great day" for George Floyd who was looking down at his jobs numbers and was smiling. Shortly after that claim, Trump retweeted a video from right-wing commentator Glenn Beck that painted Floyd as a horrible person.
The video is of an interview between Beck and right-winger Candice Owens.
In the clip, Beck asks "Is this really the guy that black America picks as their symbol?"
To no surprise, Owens went on to attack the black community and Floyd as well. She claimed that it "sickens me" he is being "held up as a martyr."
And it was Trump who retweeted that video.
You can watch the video below:
I don't care WHAT George Floyd did. The officer should have never treated him like that and killed him! But we still must ask: Is he a HERO? BLEXIT founder @RealCandaceO gave her thoughts: "The fact that he has been held up as a martyr sickens me." pic.twitter.com/0Tm47x5Cc8

— Glenn Beck (@glennbeck) June 4, 2020
Twitter users were outraged at the fact that Trump would promote that kind of narrative.
Disgusting. pic.twitter.com/JCJWEFYZww

— David Gura (@davidgura) June 6, 2020
But.. trump said he was so moved and upset over the death of George Floyd.. you mean he wasn't telling the truth??!!.. shocking. This would be a great subject for a WH reporter to quiz Kayleigh about!!. Trump retweets Floyd being a martyr makes her sick. Oops

— Rowanchats (@rowanchats) June 6, 2020
Trump has been desecrating George Floyd all damn day. Every time he mentions his name. We're about 48 hours away from, "Maybe he had it coming. I'm not saying he did. But maybe he did. Maybe he did. Who knows?"

— Invader Diễm (@JeakPaul) June 6, 2020
People do not ask to be martyred. Some tell Candance, please.

— Susie C. Parks (@scparks70) June 6, 2020
There is no bottom for this man.

— Headofhousehold (@leeap52) June 6, 2020
And Donald Trump defrauded a charity and cheated on all of his wives, including with a porn star while his wife was nursing their newborn. And yet evangelicals hold him up as God's Chosen. So maybe people shouldn't go there with Floyd.

— Gregory Huber (@Kinggrubman) June 6, 2020
This is why nothing will ever change bc of people like these.

— Sale.Kone (@Salekonefereni1) June 6, 2020
So far as I can tell, all "Blexit" really means is that Trump & the GOP are trying hard to drop their 3% support among black Americans to 0%. I'm doing my part to help caucasians drop our support for the GOP & Trump as well. Sadly we won't get to 0%, but it's good to have a goal.

— Jerry Alexandratos (@JNAlexandratos) June 6, 2020
RELATED: Jim Clyburn Slams Lindsey Graham For Saying 'Black Men Wrongly Perceive Police To Be A Threat': Watch