Trump Claims To Have 'Never Had An Empty Seat' At His Rallies – These Photos Say Otherwise: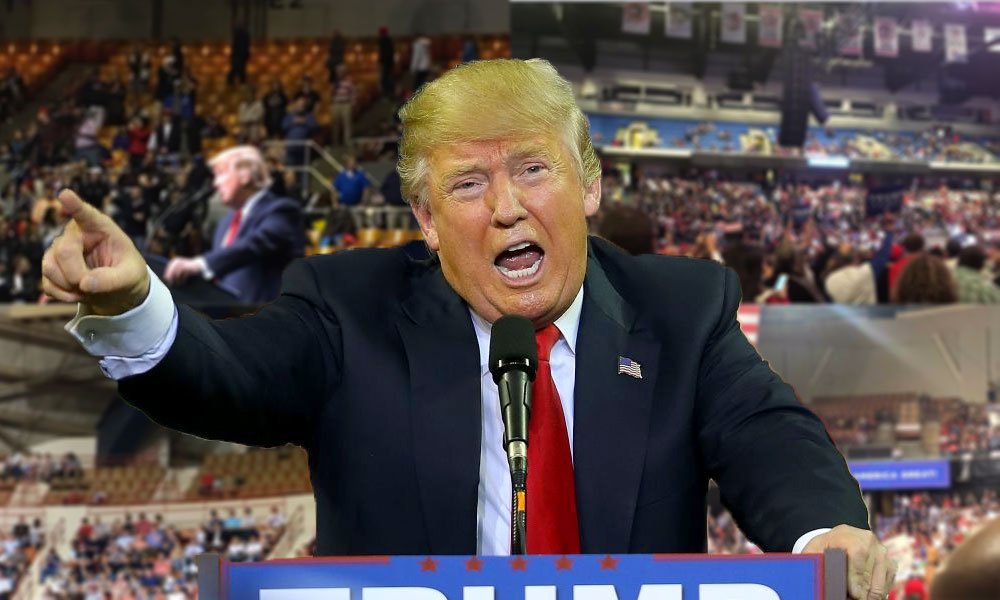 Donald Trump tried to claim on Monday that he always has sold out crowds at his rallies, but that was quickly fact-checked by photos that prove otherwise.
"We've never had an empty seat," Trump claimed.
As CNN fact-checker Daniel Dale noted, that claim is false.
"We've never had an empty seat," said Trump, who has had empty seats at multiple events.

— Daniel Dale (@ddale8) June 15, 2020
Take a look at the photos below:
Empty seats at Pennsylvania rally give the lie to Trump's claim of 'record breaking' crowd https://t.co/YfvsCGWito pic.twitter.com/LkACrRB92m

— Raw Story (@RawStory) April 30, 2017
Empty seats in New Hampshire last evening at Trump's rally.

When you've lost "The South of the North"….. pic.twitter.com/zh2z07XGSJ

— Diana (@DMR09) August 16, 2019
Reports of Trump Nashville Rally having a LOT of empty seats, especially compared to the protest outside…see for yourself. #Resist pic.twitter.com/vyJxJtfO4E

— Amee Vanderpool (@girlsreallyrule) March 16, 2017
Striking to see empty seats at rally for Trump, who fills stadiums to the gills.
Local police tell me 8k; Trump packed 10k here in April. pic.twitter.com/uTG0PioObn

— Jennifer Jacobs (@JenniferJJacobs) October 11, 2016
Empty seats in first level of Trump rally in Milwaukee. There's a whole mostly empty balcony upstairs too pic.twitter.com/3pq31rCpR4

— Reid J. Epstein (@reidepstein) April 4, 2016
RELATED: Dozens Of Evangelical Leaders Urge Christians To Dump Trump In Scathing New Book: Report