Kinzinger Hints Jan 6 Panel Has The Goods On Marjorie Taylor Greene, Calls Her 'Insane' For Playing The Victim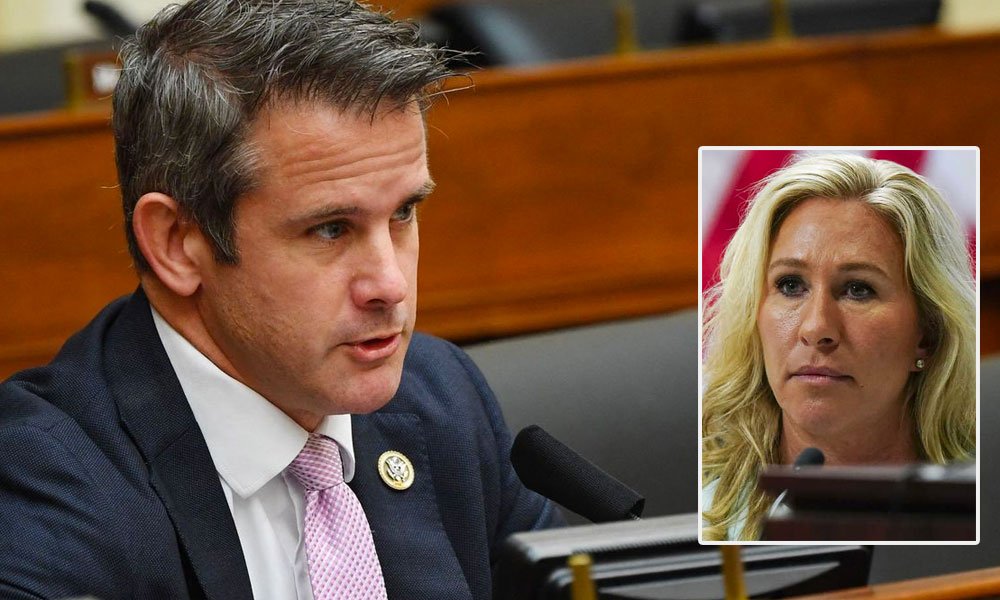 Rep. Adam Kinzinger (R-Ill.) on Sunday said the House Select Committee investigating the January attack on the US Capitol "knows some things" about Georgia Rep. Marjorie Taylor Greene and declared that it is "insane" that the controversial lawmaker considers herself a victim of the insurrection she helped incite.
Kinzinger's remarks came during a Sunday interview on CBS's "Face the Nation" after host Margaret Brennan asked the Illinois Republican if he needs to ask Greene questions about her role in the deadly riot.
"I'd love to ask her a few questions," Kinzinger said before adding that it is "amazing" that Greene would call herself a victim.
"For Marjorie Taylor Greene … to say she's a victim, it's amazing how, you know, folks like her attack everybody for being a victim. I mean, she assaulted, I think, a survivor's family from a school shooting at some point in D.C. She stood outside a congresswoman's office and yelled at her through a mail slot and said she was too scared to come out and confront her," he said.
"And then when Marjorie Taylor Greene is confronted, she's all of a sudden a victim and a poor, helpless congresswoman that's just trying to do her job. It's insane. We want the information. Look, history is not going to judge her or people like her that are buying the 'big lie' well. I firmly believe that," he concluded.
So far, the House Select Committee has requested to speak with three GOP lawmakers: House Minority Leader Kevin McCarthy (R-Calif.) and Reps. Scott Perry (R-Pa.) and Jim Jordan (R-Ohio). None of them, however, have appeared before the committee.
Watch Kinzinger's interview below from CBS:
GOP Rep. Adam Kinzinger tells @margbrennan on Rep. Marjorie Taylor Greene:

"When [she] is confronted, she's all of a sudden a victim…That's insane…History is not going to judge her, or people like her, that are buying the big lie, well. I firmly believe that." pic.twitter.com/OnznlmBwpJ

— Face The Nation (@FaceTheNation) May 1, 2022