Kellyanne Conway Encourages Trump Supporters To Go After Twitter Exec. Who Fact-Checked Trumps' Tweets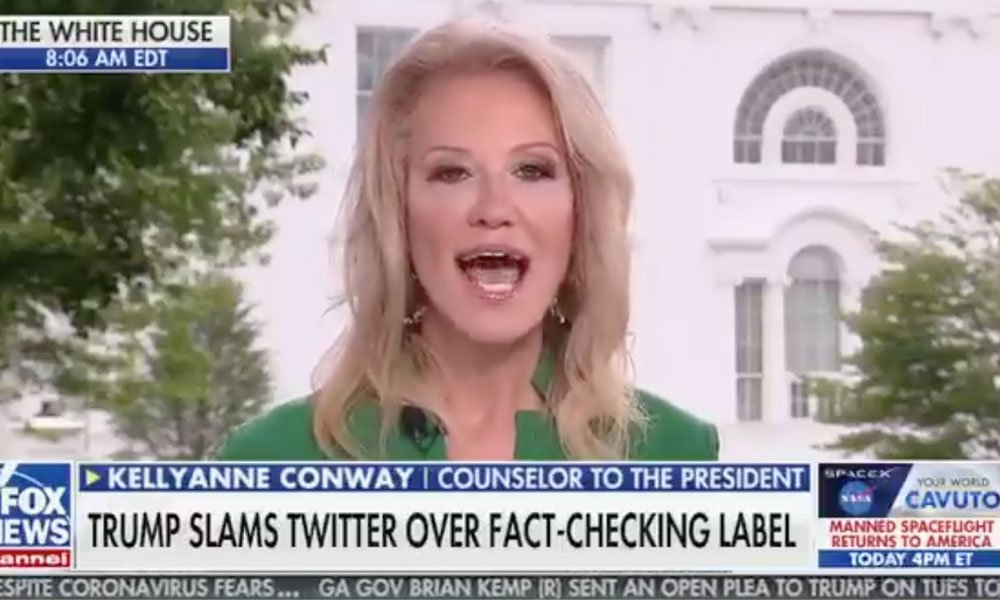 White House counselor Kellyanne Conway is now claiming that the Twitter executive who was responsible for fact-checking Donald Trump's tweets, where he lied about mail-in voting, is just anti-Trump.
Appearing on "Fox & Friends" on Wednesday, Conway singled out one name and appeared to be encouraging Trump supporters to go after him.
"He's the head of integrity and his name is Yoel Roth," Conway said on. Roth is actually the head of site integrity.
She then told viewers his Twitter handle, @Yoyoel.
"Somebody in San Francisco will wake him up and tell him he's about to get more followers," she said, apparently signaling to the Trump base to attack him.
"This guy is constantly attacking Trump voters, Trump, Mitch McConnell, you name it. And he's the head of integrity, at Twitter," she repeated, falsely. "@Yoyoel is his Twitter feed."
"Go and read what he said. 'We fly over, you know, the racist flyover country who voted for Tr –'" Conway said, interrupting herself.
"It's just horrible the way he looks at people who otherwise should have a free and clear platform on Twitter," Conway said, again telegraphing Trump's followers to go after him.
Take a look at her remarks in the video clip below:
On Fox & Friends, Kellyanne Conway appears to direct online harassment at Twitter's head of site integrity, Yoel Roth: "Somebody in San Francisco will wake him up and tell him he's about to get a lot more followers." pic.twitter.com/H9ceUu6Ezv

— Bobby Lewis (@revrrlewis) May 27, 2020
RELATED: Trump Threatens To 'Close Down' Social Media Companies For Fact-Checking His Misleading Claims About Mail-In Voting