Far Right Militia Groups Threaten Violence If Election Is Not Overturned, Warn Gov. Agencies To Stay Out Of Way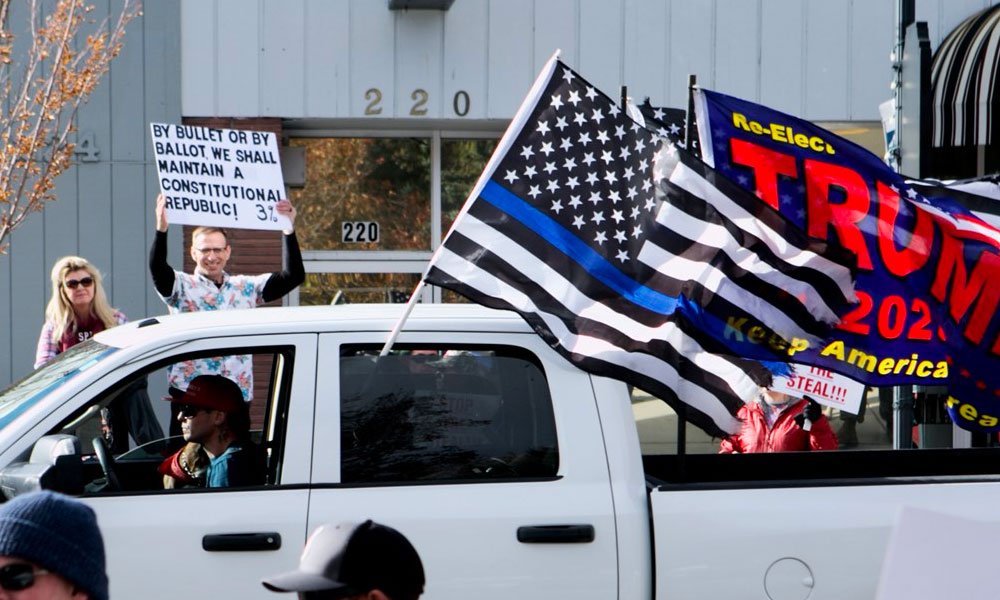 Supporters of President Donald Trump, including far-right militia groups, and fans of the conspiracy group QAnon convened in Carson City, Nevada, for a rally on Saturday and threatened violence if the election doesn't go in Trump favor. They also warned the national guard to stay out of the way,  local station CapRadio reports.
Reno-based Right-wing radio personality Monica Jaye, who spoke at the rally, promoting Trump's baseless claims of voter fraud.
"Joe Biden is not your president-elect," she said, without providing any evidence.
Another speaker, Larry Witzig, is a member of the far-right Three Percent militia network and a "Boogaloo Boi," said that "If this election fails, it's time to boogaloo. We're going to fight."
Witzig said he won't accept any outcome other than a Trump win, but also expressed optimism about the Trump campaign's strategy of filing lawsuits to obstruct ballot counting in battleground states.
"We feel pretty good about the way things are going with the courts and the recounts," he said.
But he told CapRadio if that fails, he's ready to engage in violence on behalf of Trump and the far right ideology he follows.
"If the left wants a war, we'll give it to them," he said.
In the event of armed domestic conflict, he also warned government agencies like the National Guard should stay out of the way.
"We're imploring you to stand down," Witzig said. "When we come through, don't square up with us."
Boogaloo is an anti-government extremist movement seeking to instigate a second civil war.
Two followers of the boogaloo ideology were charged with killing two law enforcement officers in California earlier this year. Another group of boogaloo supporters were arrested in Las Vegas for allegedly planning to attack protesters during Black Lives Matter events.
Last week in Carson City, a gang of Proud Boys threatened to assault Black Lives Matter supporters and others they believed were members of antifascist groups, according to CapRadio.