Elise Stefanik Cries Foul, Rages At Media For Reporting Her Racist Ads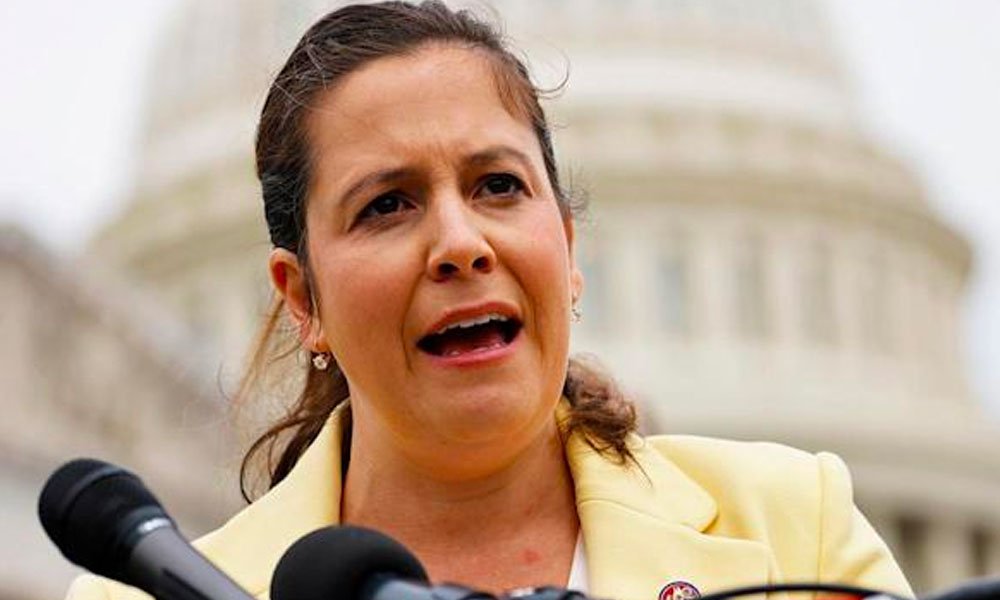 U.S. Representative Elise Stefanik, a New York Republican, lashed out at the media on Monday for accurately reporting that she has promoted the "great replacement" theory, which was used as motivation by an 18-year-old white nationalist who gunned down 10 people and wounded three in a grocery store in a predominately Black neighborhood in Buffalo, New York, on Saturday.
As noted by multiple news outlets, Stefanik, in September 2021, bought several campaign ads on Facebook promoting the "great replacement" theory, claiming that the Democrats were going to use amnesty for illegal immigrants to "overthrow our current electorate and create a permanent liberal majority in Washington.'"
"Radical Democrats are planning their most aggressive move yet: a PERMANENT ELECTION INSURRECTION," says one version of the ad. "Their [sic] plan to grant amnesty to 11 MILLION illegal immigrants will overthrow our current electorate."
But Stefanik took to Twitter to slam the reports as "Disgraceful, Dishonest and Dangerous Media Smears." In her tweet, she included a declaration from senior adviser Alex DeGrasse that "Stefanik has never advocated for any racist position or made a racist statement" and labeled the media that reported her previous statements as "groveling hacks."
RELATED: Internet Piles On After Liz Cheney Tramples Kevin McCarthy For Enabling Domestic Terrorism.
However, her attempt to distance herself from her previous racist comments was shot down by none other than Wyoming GOP Rep. Liz Cheney, who wrote: "The House GOP leadership has enabled white nationalism, white supremacy, and anti-semitism. History has taught us that what begins with words ends in far worse. @GOP leaders must renounce and reject these views and those who hold them."
Go ahead Elies. Denounce these things. https://t.co/nBFmc8ixLq

— 🇺🇦🇺🇸WTFGOP 🇺🇸🇺🇦 (@cassiejayc) May 16, 2022
Read Elise Stefanik's statement below:
— Elise Stefanik (@EliseStefanik) May 16, 2022