Watch Debbie Wasserman Schultz Mop The House Floor With Fox News Analyst Jonathan Turley During GOP-Led Hearing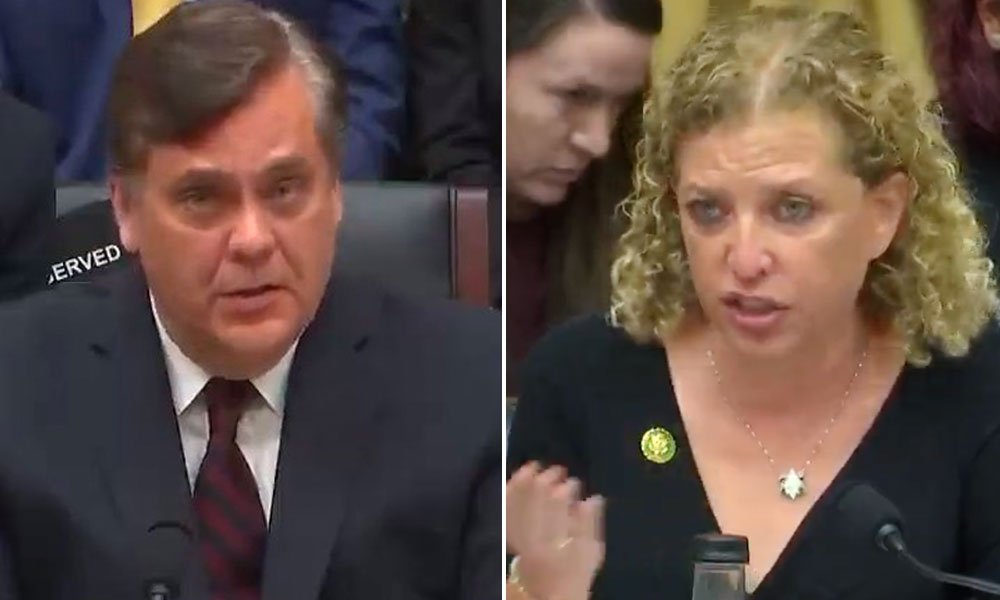 Democratic Rep. Debbie Wasserman Schultz, Of Florida, pulled no punches on Thursday in going after the credibility of Fox News legal analyst Jonathan Turley, one of the GOP-called witnesses before the House's subcommittee targeting the so-called "weaponization" of the federal government.
During a tense exchange, Wasserman Schultz called out Turley for offering nothing more than "opinion and pure conjecture" at the hearing.
"Mr. Turley turning to you. Have you ever worked for Twitter?" Wasserman Schultz began.
"No," Turley replied.
"Do you have any formal relationship with the company?" she followed up.
"No, I just have an account," Turley answered.
"Do you have any specific or special or unique knowledge about the inner workings of Twitter?" she pushed.
"Nothing beyond the Twitter Files and what I read in the media," Turley noted.
"So essentially, your responses to the questions here today were your own opinion and pure conjecture?" she asked.
"No, I wouldn't say that. I mean, they're based. I try to base them on what we know from the Twitter Files," Turley responded, referencing select data dumps that Elon Musk gave to various independent journalists to comb through.
"Well, but you said that you don't have any specific or unique knowledge of Twitter, but you spoke as if you did. You were asked very specific questions about Twitter's — the way Twitter functions and the decision-making that they make. But yet you don't have any unique or special knowledge about Twitter and have never worked for them. And so this is only just your opinion, would you say, as a Twitter account user?" Wasserman Schultz demanded.
"No. I come to give legal analysis based on facts that are in the public domain, and I was really referring to what I was asked about," Turley replied.
"Reclaiming my time," Wasserman Schultz interjected. "Legal analysis is another word for opinion."
"I would, I would think there is some distinction. But yeah, it's all ultimately, is an opinion. But I believe the question to me was based on what the Twitter Files show, and that was my reading of the Twitter Files," Turley conceded.
"Right. And again, that's another way of describing your opinion being offered, which was represented as unique and special fact, which you don't possess. Thank you. I yield back the balance of my time," Wasserman Schultz concluded.
Watch the full clip of the exchange below.
😬 this didn't go so well for Turley pic.twitter.com/YUfjmy1zz0

— Acyn (@Acyn) February 9, 2023