Video Emerges Showing Marjorie Taylor Greene Hounding AOC's Congressional Office In 2019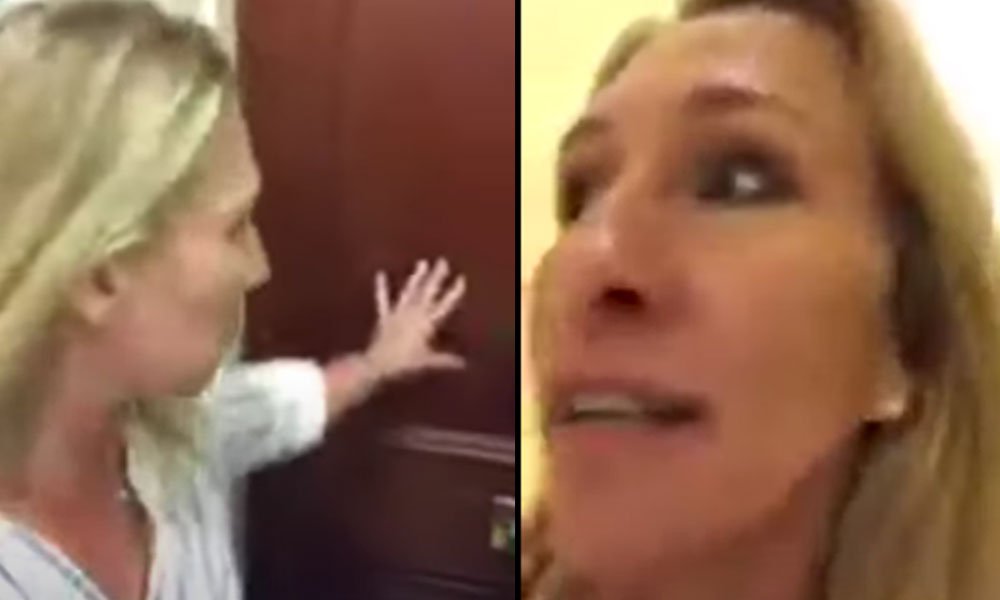 This week, QAnon fanatic and GOP Rep. Marjorie Taylor Greene (GA) came under fire after she followed Rep. Alexandria Ocasio-Cortez (D-NY) around the United States Capitol and accused her of supporting "terrorists" and demanding she debate her. But Greene's obsession with the New York Democrat is not new.
Now, CNN has uncovered a video that Greene herself posted in 2019, which has since been deleted from her social media accounts, in which she harassed Ocasio-Cortez's office while visiting the Capitol.
"During a February 2019 visit to congressional offices at the US Capitol with associates who include a man who would later enter the Capitol during the January 6 insurrection, Greene… can be seen taunting Ocasio-Cortez's staff outside the congresswoman's locked office by talking through a mailbox slot," reports CNN. "In the video… Greene tells Ocasio-Cortez to 'get rid of your diaper,' referring to the congresswoman's office as a 'day care.'"
Greene in the past has also been caught on camera stalking and harassing school shooting survivor David Hogg, as well as Muslim Reps. Rashida Tlaib (D-MI) and Ilhan Omar (D-MN), whom she targeted for taking the oaths of office on the Koran instead of the Bible.
Watch the video below, via CNN.