'Trump Whore', 'How Are You Not In Prison Yet?': Lindsey Graham Demolished For Attacking Biden's Jan 6 Speech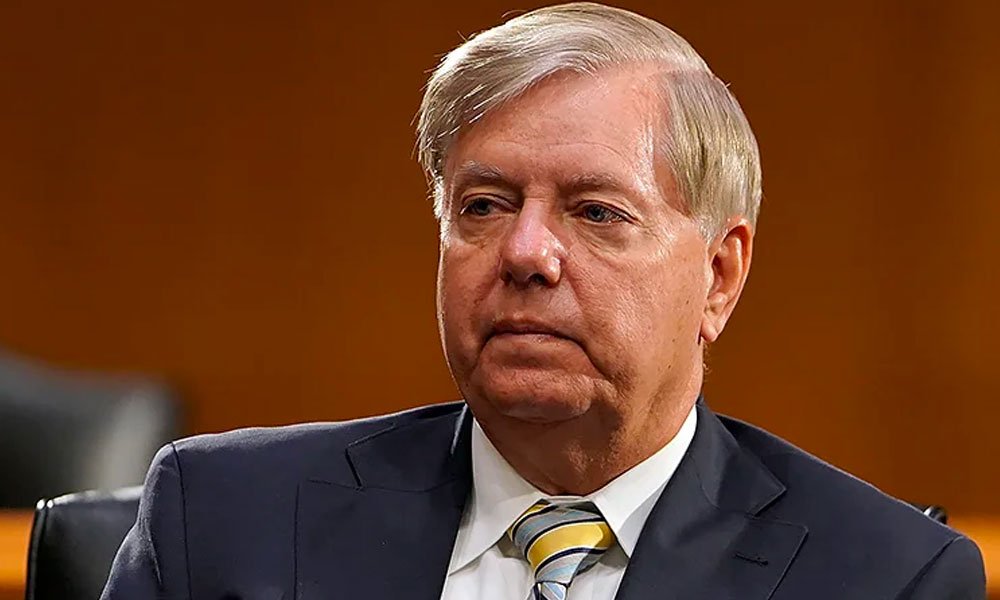 GOP Sen. Lindsey Graham, of South Carolina, sparked a massive backlash on Thursday after he attacked President Joe Biden for delivering a speech to the nation on the anniversary of the Capitol attack fueled by former president Donald Trump's 'Big Lie' about the 2020 election.
During his speech, Biden said: "Here is the God's truth about Jan. 6, 2021. Close your eyes, go back to that day, what do you see? Confederate flag that symbolizes the cause to destroy America, to rip us apart. Even during the Civil War that never, ever happened, but it happened here, in 2021."
Biden also condemned the former president, "who had just rallied the mob to attack, sitting in a private dining room off the oval office in the White House, watching it all on television and doing nothing for hours as police were assaulted, lives at risk. The nation's Capitol under siege."
Biden's remarks didn't sit well with Sen. Graham, who jumped on Twitter to complain about the speech, writing: "What brazen politicization of January 6 by President Biden. I wonder if the Taliban who now rule Afghanistan with al-Qaeda elements present, contrary to President Biden's beliefs, are allowing this speech to be carried?"
As expected, Twitter users had to respond, and the comments were brutal.
Read Graham's tweet and some of the reactions below.
What brazen politicization of January 6 by President Biden.

I wonder if the Taliban who now rule Afghanistan with al-Qaeda elements present, contrary to President Biden's beliefs, are allowing this speech to be carried?

— Lindsey Graham (@LindseyGrahamSC) January 6, 2022
You, sir, are a brazen, partisan hack. You're also a traitor and a coward.

— Jon Cooper 🇺🇸 (@joncoopertweets) January 6, 2022
So your party's attempt to overthrow democracy was a non-partisan event? Once you were a Senator, grudgingly respected by your opponents. Now you are a Trump Whore. Flee the country.

— Keith Olbermann (@KeithOlbermann) January 6, 2022
From the senator who, a year ago today, watched what happened at the Capitol and declared: "Enough is enough." https://t.co/vY0GMZGyYu

— Kasie Hunt (@kasie) January 6, 2022
Politicization? Then what is this – https://t.co/9qEYTu5b1X

— Linda c (@Lindac34923240) January 6, 2022
Also Watching Republicans turn against democracy instead of disavowing trumpism is pretty depressing

— Molly Jong-Fast (@MollyJongFast) January 6, 2022
I'm old enough to remember when you, Lindsey Graham, illegally pressured Georgia election officials to throw away a lot of votes. How are you not in prison yet?

— Andrea Junker (@Strandjunker) January 6, 2022
You are an unpatriotic coward. Nothing more.

— Amy Siskind 🏳️‍🌈 (@Amy_Siskind) January 6, 2022
Yeah, wouldn't want the make the leader of the Republican Party inciting an insurrection on the US Capitol for the express purpose of anointing himself the winner of an election that he lost "politicized."

— Brian Tyler Cohen (@briantylercohen) January 6, 2022
Never forget!! The nation came very close to fulfilling this prophecy!! 👌 close… and if care isn't taken … it will happen in 24" in a more organised coordinated manner!! https://t.co/RFWV07oQJD

— Leuz 🀄️ (BSN, RN) (@MichaelLeuz) January 6, 2022
They wore MAGA hats. Carried trump flags. (And confederate) flags. As they tried to over throw my vote.

Them. They politicized this. Not Joe Biden.

— THEE five head (@LeeMES123) January 6, 2022