Trump Vows To Wear Martial Arts Suit To Congress If He Wins In 2024 After Being Awarded Honorary Title Of 'Grandmaster' Of Taekwondo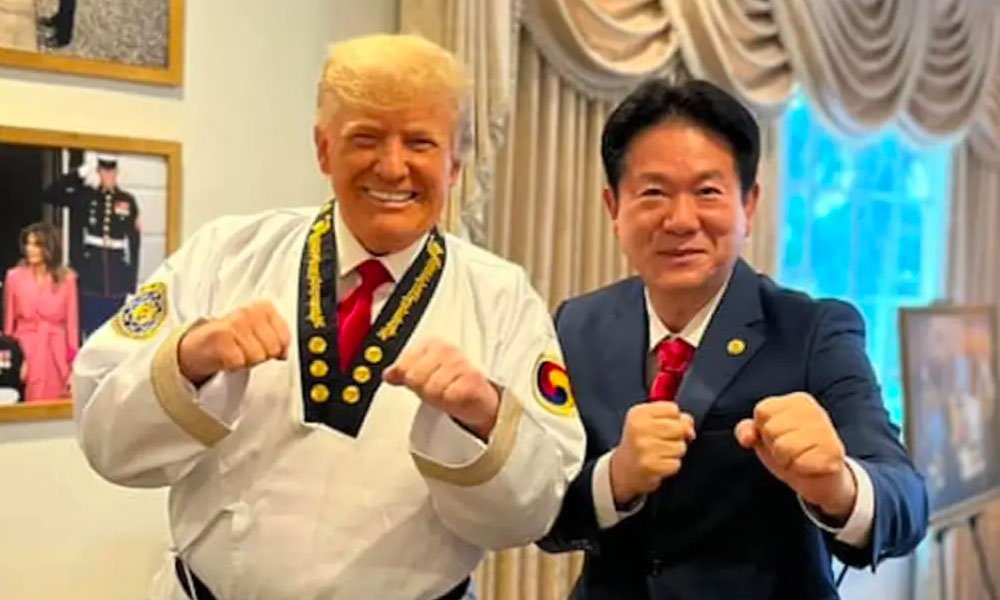 It takes decades of training to the level of "grandmaster" of martial arts. But for Donald Trump, who has never trained, it took just one short ceremony to attain it after being awarded an honorary ninth dan black belt in Taekwondo over the weekend, the highest-ranking you can obtain.
Of course, if you put Trump and Floyd Mayweather in a fighting ring, who would win? Well, if you live in the real world, Trump would be no match for the boxing champion. But in Trumpland, the former president would have the upper hand after obtaining his honorary black belt, which was presented at Mar-a-Lago on Friday by Lee Dong Seop, President of Kukkiwon, the world taekwondo headquarters located in South Korea.
But Trump is not the only person to hold such an honor. In 2012, Russian President Vladimir Putin was also awarded the same honor during his visit to Seoul. With this achievement, the former US president and Putin have outranked martial arts expert and "Walker, Texas Ranger" star Chuck Norris, who only has an eighth-degree taekwondo black belt.
After the ceremony, Trump reportedly stated that he would wear the taekwondo suit in Congress should he make a return to the White House in 2024.