Trump Hurls Vulgarity-Laden Rant At Kevin McCarthy For Throwing Him Under The Bus During Impeachment Vote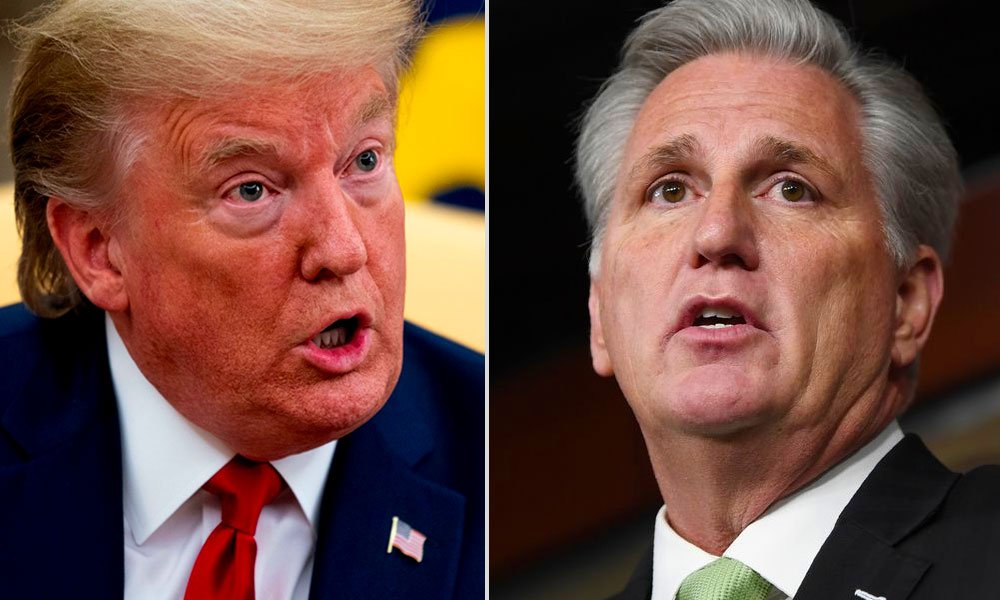 House Minority leader Kevin McCarthy (R-CA), a man who's gone to embarrassing lengths to defend Donald Trump's worst impulses in the past four years, became the latest target of the outgoing president's wrath as he prepares to exit the White House.
According to New York Times reporter Maggie Haberman, Trump on Tuesday threw a raging fit, lashing out at the top Republican in the U.S. House for blaming him for the violent riot at the U.S. Capitol.
"The president has continued to tell advisers and allies he really won the election, with less than 48 hours to go before he leaves office. On the current GOP rift, the president's anger is with every Republican who voted for impeachment but singular for McCarthy, aides say," Haberman wrote on Twitter.
"Associates who've spoken with Trump say he's used the same vulgarity he used about [Vice President Mike] Pence to describe McCarthy, saying he bowed to pressure with his House floor speech," she added.
McCarthy last week tried to have it both ways by simultaneously denounced the idea of impeaching Trump for having incited an insurrectionist attack on the U.S. Capitol, while also trying to appear reasonable about Trump's obvious misconduct.
"The president bears responsibility for Wednesday's attack on Congress by mob rioters," the House GOP leader conceded. "He should have immediately denounced the mob when he saw what was unfolding."
McCarthy went on to say, "Let's be clear: Joe Biden will be sworn in as the President of the United States in one week because he won the election."
Hoping to spare Trump the humiliation of a second impeachment, McCarthy tried to pose as a centrist who recognizes Trump's misconduct, but who also believes accountability is an obstacle toward "unity."
The tactic backfired spectacularly. As a result, some Republicans denounced the GOP leader's willingness to perpetuate "phony lies," while his president rages about McCarthy having "bowed to pressure" and failing to show absolute loyalty.
Associates who've spoken with Trump say he's used the same vulgarity he used about Pence to describe McCarthy, saying he bowed to pressure with his House floor speech.

— Maggie Haberman (@maggieNYT) January 18, 2021