Trump Demands 'EQUAL' Air Time From 'Fake News Networks' In Rabid Rant About Jan 6 Hearings
Former President Donald Trump took on Thursday slammed the "fake news networks" for airing the House Select Committee's on January 6, and demanded that they give him an "equal amount" of air time on the same networks to lay out what he described as "evidence of massive Voter Fraud & Dem Security Breach!"
"The Fake News Networks are perpetuating lies, falsehoods, and Russia, Russia, Russia type disinformation (same sick people, here we go again!) by allowing the low rated but nevertheless one sided and slanderous Unselect Committee hearings to go endlessly and aimlessly on (and on and on!)," the twice-impeached former president wrote. "It is a one sided, highly partisan Witch Hunt, the likes of which has never been seen in Congress before. Therefore, I am hereby demanding EQUAL TIME to spell out the massive Voter Fraud & Dem Security Breach!"
"I DEMAND EQUAL TIME!!!" he added.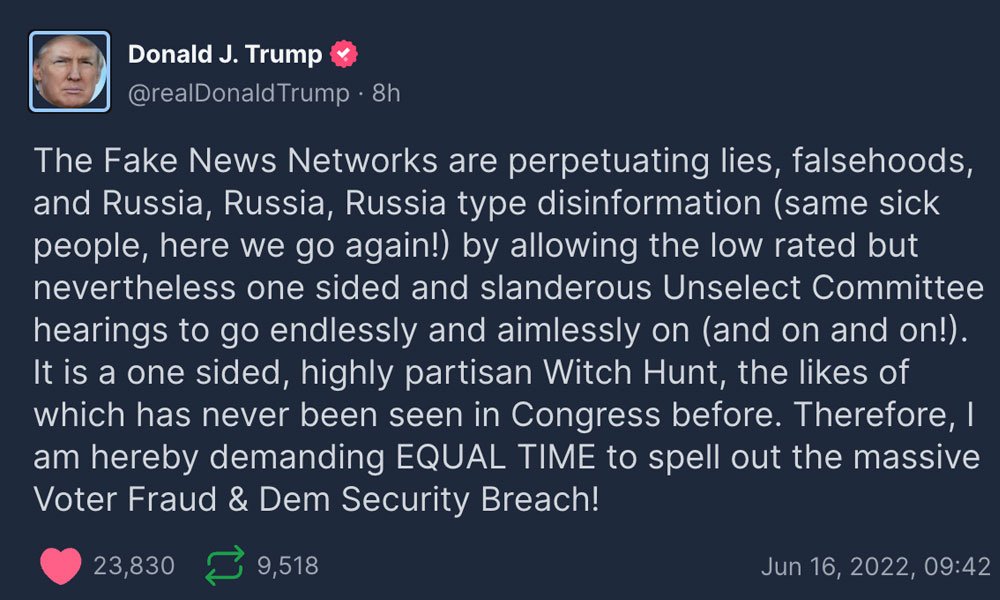 Trump's diatribe came hours before the third televise hearing aired on Thursday.
It also comes as the Jan 6 panel unveils new evidence that Trump knew that the actions he took in his "relentless efforts" to undo his election loss were illegal, but he decided to do anything, whether legal or not, in his quest to remain in power.