'They Will Harm Our Reputation': Florida Residents Say Don Jr. And Kimberly Guilfoyle Are Not Welcomed To Their Neighborhood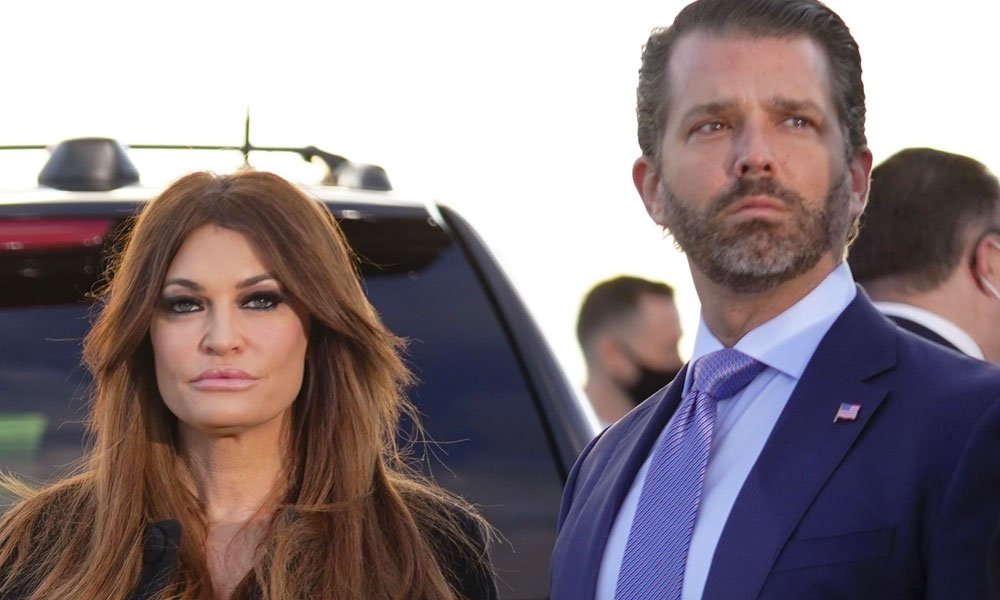 Residents in an exclusive Jupiter, Florida gated community are reportedly fuming after learning that Donald Trump Jr. and his girlfriend Kimberly Guilfoyle, a former Fox News host, are seeking to move to their waterfront neighborhood.
According to the Palm Beach Post, about 30 residents of the Admirals Cove community in Jupiter, 20 miles north of Palm Beach, contacted the homeowners' association to express their concerns about the couple's role in inciting Trump supporters to storm the U.S. Capitol on Jan. 6.
"About half have concerns about safety," said Peter Moore, general manager of the property owners association, told the Palm Beach Post "The others have political concerns with what's happened in the last couple of weeks."
One resident went so far to say in a neighborhood email thread that the couple's presence in Admirals Cove would be "a nightmare," the Palm Beach Post reported.
On January 6, Trump Jr. and Guilfoyle joined then President Trump on stage at a pro-Trump rally near the White House on Jan. 6, where they helped push his false claims of election fraud and urged his MAGA supporters to "fight" to overturn the results of Joe Biden's victory.
Moments later, the crowd turned into a violent mob that stormed the U.S. Capitol, engaged in deadly clashes with police and threatened to hang Vice President Mike Pence.
Even before the Jan. 6 insurrection, which led to Trump being impeached for a historic second time, Trump Jr. and Guilfoyle began house-hunting in Florida because they knew they couldn't return to New York City after Trump left the White House.
Like the former president, and other Trump family members, Trump Jr. and Guilfoyle have faced reports that they would "not be welcome" in the liberal social circles of Manhattan where Trump Jr. was once a prince in his father's real estate empire and Guilfoyle a conservative media star.
But Trump Jr. and Guilfoyle may have been wrong to assume that Florida would provide an automatic safe haven, even if its exclusive gated communities are populated by like-minded conservatives.
Because of Trump Jr's actions before the Capitol siege and Guilfoyle's alleged workplace improprieties at Fox News, the Admirals Cove residents wrote: "I believe their membership would bring undesirable notoriety to the club, harm our reputation and have the potential for creating disharmony."
The Palm Beach Post said the couple, together, plan to buy a seven-bedroom home in Admirals Cove that's listed for $11 million, while Guilfoyle, on her own, plans to buy the six-bedroom home next door that's listed for $9.5 million. Purchasing a home in Admirals Cove guarantees them membership in the community's country club, according to the Palm Beach Post.