Mitch McConnell Suffers Brain Freeze Again During Press Conference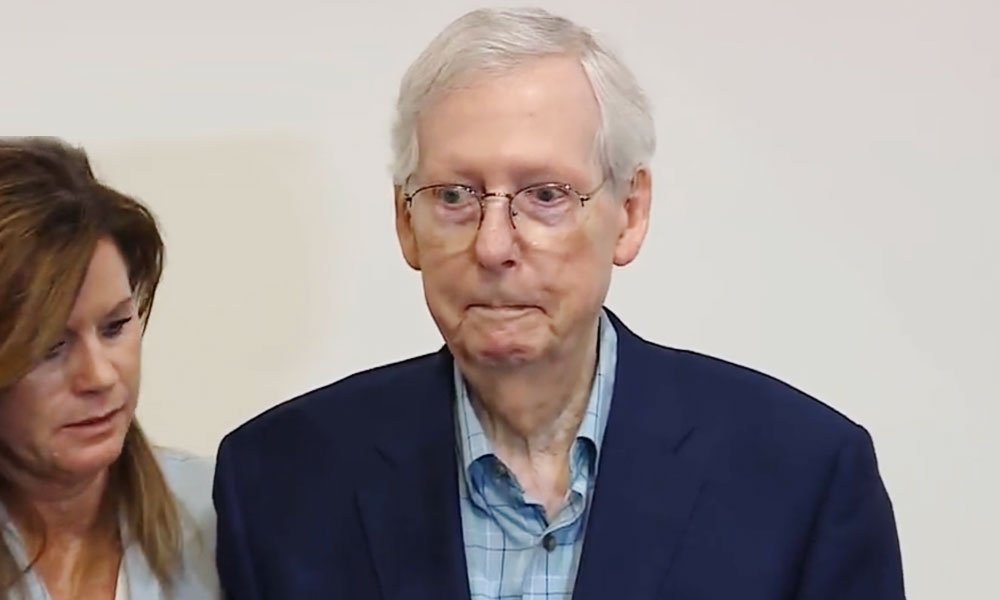 Senate Minority Leader Mitch McConnell experienced a second instance of freezing in front of reporters within a matter of months, this time during an event held in his home state of Kentucky (Video below).
The incident occurred as the 81-year-old McConnell engaged in a discussion regarding the possibility of seeking another six-year term in 2026. Much like his previous episode on July 27th at Capitol Hill, McConnell's demeanor turned rigid and unresponsive.
When asked about his thoughts on running for re-election in 2026, McConnell's initial response was, "What are my thoughts about what?" His gaze then shifted upward, leaving him staring into space.
A nearby woman had to reiterate the question: "Running for re-election in 2026?"
After a lapse of approximately 30 seconds, McConnell seemed to return back to reality and proceeded to answer two more questions from the reporters.
McConnell freezes again. pic.twitter.com/vLiPlyPNk7

— Dr. Jeffrey Guterman (@JeffreyGuterman) August 30, 2023
This incident evoked memories of McConnell's previous instance when he halted mid-sentence while discussing the annual defense bill, leaving the Washington, DC press corps startled.
Colleagues stepped in to escort him away from the microphone, but he later reappeared to reassure reporters that he was in good health and capable of performing his duties effectively.
According to a McConnell aide, the Minority Leader experienced a momentary feeling of light-headedness, prompting him to briefly step away. Upon his return, he responded to questions.
In recent months, McConnell has encountered several health-related concerns. In March, he sustained a concussion following a fall during a fundraising event at the Waldorf Astoria hotel in Washington. Additionally, he faced mishaps like stumbling during a Senate delegation trip to Finland in February and experiencing a tumble while disembarking from a plane at Reagan National Airport in July.