Fuming Trump Screamed At TV Set Over His Lawyers' Disastrous Performance During Impeachment Trial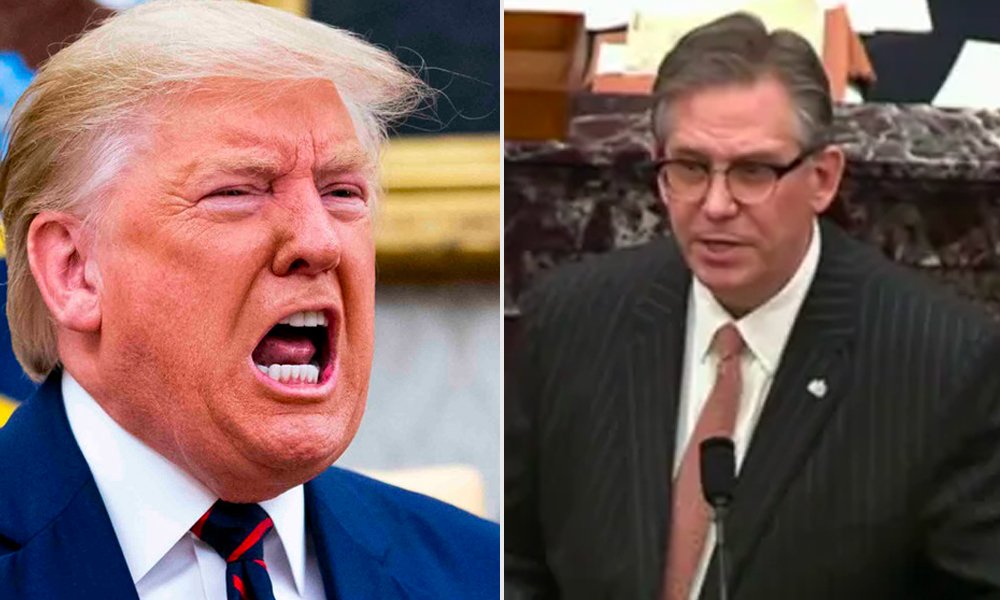 Donald Trump was so enraged with his lawyer Bruce Castor that he reportedly started yelling at the TV set over Castor's rambling opening argument on the Senate floor this afternoon, CNN reports, two people familiar with his reaction.
The former president was reportedly screaming as Castor made meandering arguments that struggled to get at the heart of his defense team's argument, which is supposed to be over the constitutionality of holding a trial for a president no longer in office, according to the news network.
Trump's attorneys were forced to switch speaking slots at the last minute after Democrats' powerful opening statement, leaving Trump allies flabbergasted.
An adviser to former President Trump's team offered a candid assessment of the messy opening day for the former president's impeachment team.
Part of the problem for Trump, the adviser said, is that the ex-President had some trouble in assembling a legal team for the Senate trial, noting his first group of lawyers bailed on him.
The adviser said Trump could be in serious jeopardy if he finds himself charged in criminal court, given his inability to attract a high-powered legal team for the impeachment trial.
"Trump is f*cked if anyone ever charges him. No one wants to work with him," the adviser said.
The adviser responded to the incoherent presentation from defense attorney Bruce Castor, saying, "What the hell is going on?"
A separate senior adviser to Trump insisted that Castor was attempting to lower the emotional temperature in the Senate before attorney David Schoen began his presentation.
"This is about lowering the temperature following the Democrats' emotionally charged opening, before dropping the hammer on the unconstitutional nature of this impeachment witch hunt," the adviser said.
Given the legal team was assembled a little over a week ago, it went as expected, one of the sources told CNN.