Eric Trump Pulls Off Most Idiotic Interview In 2020, Beating His Father And Brother By a Landslide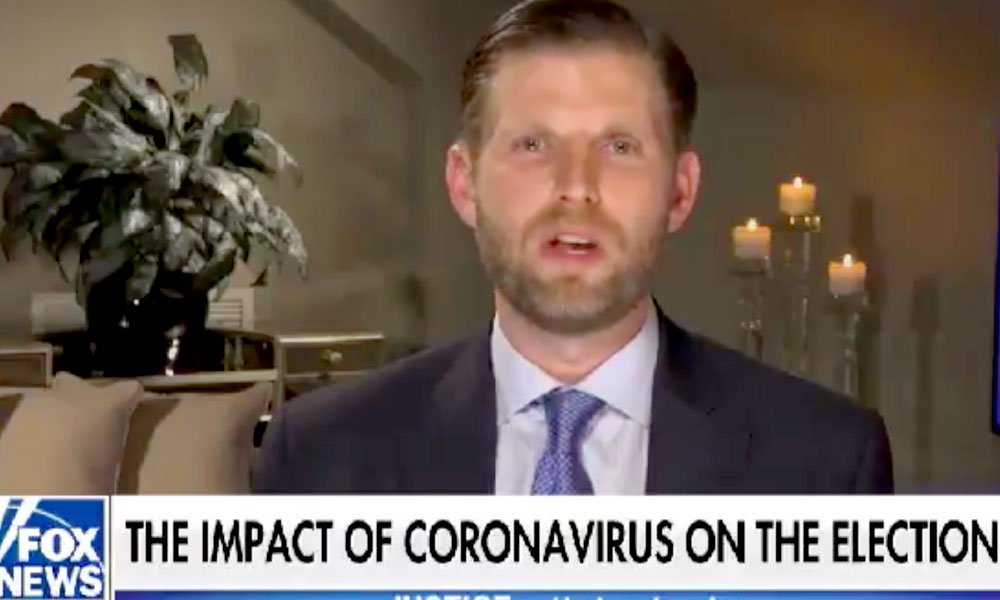 Judging by his Fox News appearance over the weekend, it appears that President Donald Trump's younger adult son, Eric Trump is competing for the title of "most moronic man on earth."
On Saturday, the president's son falsely claimed that the COVID-19 crisis is a Democratic hoax that will "disappear" after the November presidential election and accused Democrats of hyping the COVID-19 pandemic to prevent conservatives from attending his father's campaign re-election rallies.
"Listen, Biden loves this," Eric Trump, a vice president at the Trump Organization, told Fox News host "Judge Jeanine" Pirro on Saturday night. "They think they're taking away Donald Trump's greatest tool, which is being able to go into an arena and fill it with 50,000 people every single time."
President Trump's rallies have not actually attracted 50,000 people, and the president has exaggerated past campaign rally attendance numbers, noted Business Insider.
"So they will, and you watch, they'll milk it every single day between now and November 3," Eric Trump added.
"And guess what, after November 3, coronavirus will magically all of the sudden go away and disappear and everybody will be able to reopen."
He also called the coronavirus pandemic "a very cognizant strategy that they're trying to employ."
Watch:
Executive Vice President of the Trump Organization and the son of the president @EricTrump Trump joins "JUSTICE" tonight to react to my opening monologue and much more. Take a look. pic.twitter.com/bnn6QF2y4j

— Jeanine Pirro (@JudgeJeanine) May 17, 2020
Joe Biden's campaign called Eric Trump's remarks "unbelievably reckless" on Sunday.
"To claim that the coronavirus is a political hoax that will 'magically' disappear is absolutely stunning and unbelievably reckless," said Kate Bedingfield, Biden's deputy campaign manager and communications director, according to The Hill.
"The simple fact is that President Trump ignored the threat of the coronavirus for months and has mishandled the response at every step since — destroying the strong economy he inherited from the Obama-Biden administrations and leading to countless unnecessary death," she said.
Public health officials have urged states to use caution when allowing businesses to reopen and warned the fall and winter may bring a larger wave of coronavirus infections.
The U.S. has counted more than 1.4 million COVID-19 infections, leading to at least 89,207 deaths, according to data from Johns Hopkins University.