Eight Republican Senate Seats Most Likely To Flip To Democrats In 2020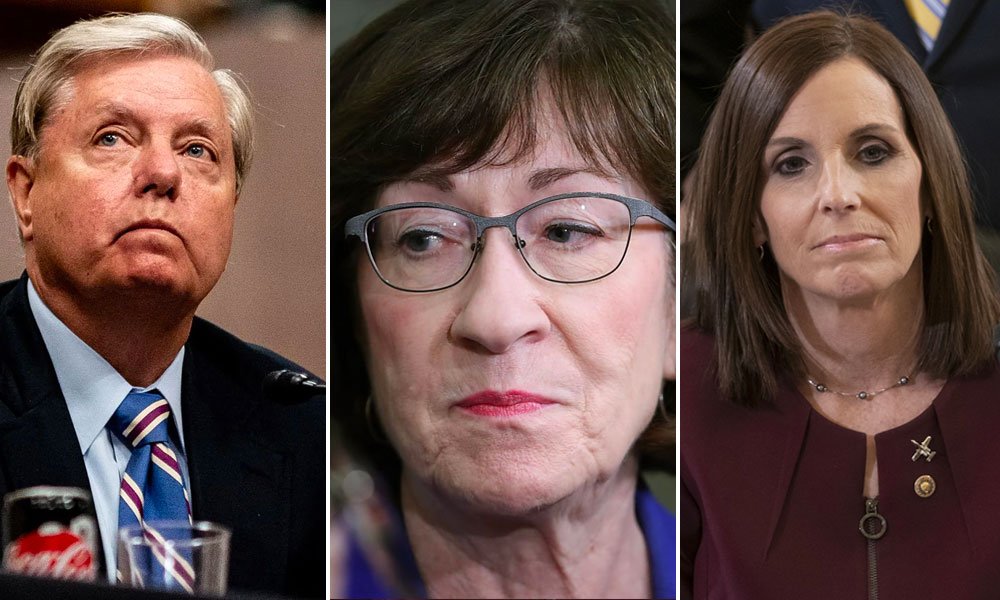 There's no question the current Supreme Court battle has further nationalize the fight for control of the Senate, with Republicans looking to defend a majority that was very much at stake well before Justice Ruth Bader Ginsburg died.
The loss of the liberal justice and President Donald Trump's nomination of Amy Coney Barrett have been a fundraising fuel for Democrats, many of whom already had significant financial advantages, with small-dollar donors giving more than $300 million via the online fundraising platform ActBlue since her death.
But it's also energizing conservatives, who are hoping to remind right-leaning voters who may have soured on Trump of the importance of having a GOP-controlled Senate when it comes to the long-term balance of the high court.
The Senate landscape looks different from the last time there was a Supreme Court fight, just before the 2018 midterms. Two years ago, Democrats were on defense, and at least three of their red-state incumbents couldn't overcome a highly partisan confirmation nationalizing their races.
This year, however, Democrats are on offense, defending just 12 seats to Republicans' 23. Democrats need a net gain of four seats to win control of the chamber, or three if Joe Biden wins the White House since the vice president breaks ties in the Senate.
With less than six weeks to go, here are the Republican seats most likely to Democrats in November:
1. Arizona
Incumbent: Republican Sen. Martha McSally
Sen. Martha McSally faces a difficult path to victory in November that requires winning over Trump's base and some of the suburbanites who dislike him. Unlike Gardner, though, she's in a state where Trump is competitive, and there's the chance that a tightening presidential race there could boost her fortunes. But the Supreme Court fight could also underscore her liabilities with suburban women, whom she failed to win over in 2018. Democrat Mark Kelly, a former astronaut and the husband for former Rep. Gabrielle Giffords, doesn't have a voting record and had a massive cash advantage as of mid-July, when the latest fundraising reports were available.
2. Colorado
Incumbent: Republican Sen. Cory Gardner
Sen. Cory Gardner is in a state that voted for Clinton by about 5 points and where Trump is deeply unpopular. His opponent, former Democratic Gov. John Hickenlooper, launched one of the first ads to mention the Supreme Court vacancy, pointing out Gardner's support for confirmation before the election. The first-term Republican is in a bind: he can't afford to turn off the conservative base, but he's also trying to hold onto enough ticket-splitting voters.
3. Maine
Incumbent: Republican Sen. Susan Collins
Sen. Susan Collins has long relied on a moderate image to dispatch Democratic challengers. But Democrats' central argument against her this year is that she's no longer the senator Mainers have elected four times before. Collins' vote for the 2017 GOP tax plan and contributions from the pharmaceutical industry have been especially prominent parts of Democratic messaging, although one recent spot from a Democratic outside group also spotlights her support for Supreme Court Justice Brett Kavanaugh. That 2018 vote was a rallying cry for moderate Republicans, independents and Democrats, particularly when it came to fundraising. Another Supreme Court vacancy allows Democratic state House Speaker Sara Gideon to argue that even if voters like Collins, they cannot afford to have another GOP vote in the Senate. At the same time, Collins' refusal to confirm a Trump nominee before the election isn't likely to win her any sympathies with the GOP base, whom she needs to turn out for her. One more complicating factor for Collins, who failed to hit 50% in several recent public polls, is ranked choice voting, which helped send New England's last Republican member of the US House packing in 2018.
4. North Carolina
Incumbent: Republican Sen. Thom Tillis
While Trump's recent rallies in North Carolina, which could be good news for first-term Sen. Thom Tillis, he is struggling to consolidate the President's base behind him. And when Trump makes news at those rallies, for example, by suggesting people to try to vote twice (which would be illegal), Tillis risks losing the well-educated and suburban voters who are making this state competitive up and down the ballot.
5. Iowa
Incumbent: Republican Sen. Joni Ernst
Democrats are looking at a competitive presidential state, however, they are using Sen. Joni Ernst's recent controversial comments about coronavirus, in which she expressed skepticism about the death count, against her, while Democratic businesswoman Theresa Greenfield is having Republicans vouch for her on air.
6. Georgia
Incumbent: Republican Sen. David Perdue
Georgia drops below Montana in large part because of the uncertainty over a January runoff. Democrat Jon Ossoff, who lost an expensive 2017 special House election in the Atlanta suburbs, is taking on first-term Republican Sen. David Perdue. Despite the state's traditional Republican bent, demographic changes in the Atlanta suburbs are making the Peach State much more competitive for Democrats up and down the ticket. Ossoff's best shot is winning outright in November if Biden can carry the state. A CBS News poll released Sunday showed Perdue leading 47% to 42% among likely voters. If neither candidate receives a majority and the Senate race advances to a January runoff, with unpredictable turnout, it could be harder for a Democrat to win without presidential coattails. Perdue is trying to paint Ossoff as "too radical." But in a sign Democratic hits may have been resonating, Perdue had to address attacks over his stock trades in a recent ad, in which he explained that the government cleared him of wrongdoing.
7. Montana
Incumbent: Republican Sen. Steve Daines
Polling in Montana shows a very tight race, but Democrat Steve Bullock, a two-term governor who won statewide the same year Trump carried the state by more than 20 points, has a demonstrated ability to win ticket-splitting voters. And while Republicans argue that the Supreme Court battle has a better chance of helping them in Montana than in Georgia, there is recent precedent for a Montana Democrat opposing a Trump nominee and still winning. Democrats are also encouraged by the removal from the ballot of the Green Party candidate, who could have siphoned votes away from Bullock.
8. South Carolina
Incumbent: Sen. Lindsey Graham
Sen. Lindsey Graham, has been a boogeyman on the left — and is even more so now after reversing his stance on confirming Supreme Court justices during presidential election years. That national attention helped the former state Democratic Party chairman vastly outraise Graham, a Trump skeptic turned close ally. But it no longer appears to be just out-of-state buzz animating this race. Public polling has consistently shown Harrison locked in a tight race with Graham, which is why, of all the "reach seats" Democrats are targeting in red states like Kansas, Kentucky, Texas and Alaska, this one makes the list of seats most likely to flip.