Don Jr Tries To Distance Himself From Bannon After Arrest, It Backfires Immediately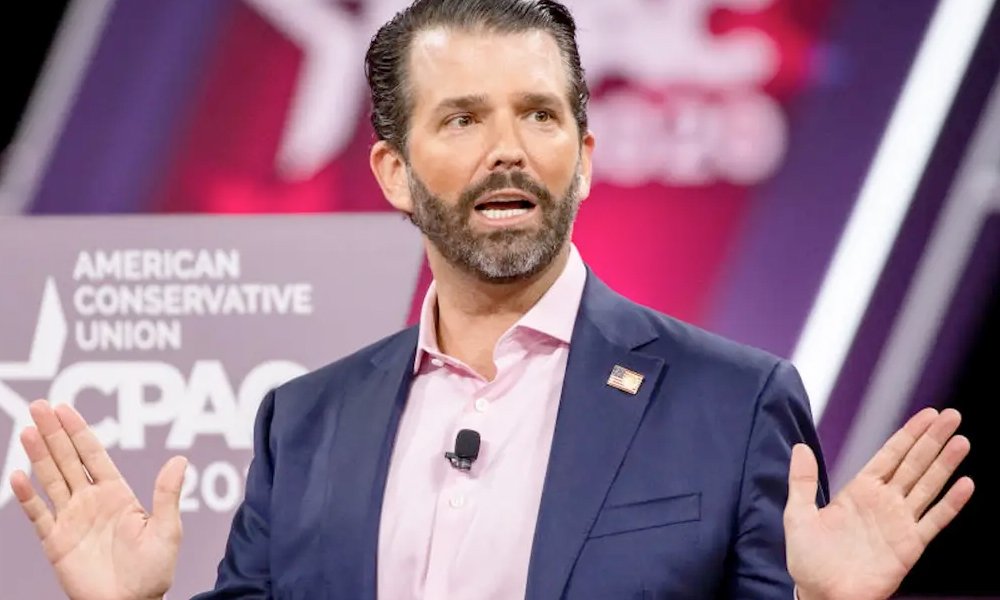 Donald Trump's former senior adviser Steve Bannon was arrested on Thursday over his connection to the "We Build the Wall" crowdfunding campaign that allegedly misappropriated the funds they raised. Shortly after the arrest was made public, Donald Trump Jr. tried to distance himself from the campaign, despite enthusiastically endorsing the "We Build the Wall" campaign in 2019.
"This is what capitalism is all about. This is private enterprise at its finest. Doing it better, faster, cheaper than anything else. What you guys are doing is amazing," Trump Jr. said at the time.
White House correspondent Maggie Haberman shared a statement by Trump Organization spokeswoman Amanda Miller, who was speaking on Trump Jr.'s behalf.
From Trump Org spokeswoman Amanda Miller re Donald Trump Jr's visit to the Bannon Wall project: pic.twitter.com/mutJfc8LgN

— Maggie Haberman (@maggieNYT) August 20, 2020
Trump Jr.'s attempt to distance himself from Bannon backfired after critics on Twitter couldn't resist bringing up his past praise of the group.
Running scared. It's humorous to watch them scatter each time. https://t.co/q9uVcNrBlF

— Mark S. Zaid (@MarkSZaidEsq) August 20, 2020
So their defense is @DonaldJTrumpJr is too stupid to know any better. https://t.co/2Wyf1yIUdV

— 𝐉𝐄𝐑𝐄𝐌𝐘 𝐃𝐎𝐇𝐄𝐑𝐓𝐘 (@JM_Doherty) August 20, 2020
Here's Donald Trump Jr.'s testimonial on the We Build The Wall Website. pic.twitter.com/oXnD1gCIzn

— Jonathan Allen (@jonallendc) August 20, 2020
Donald Trump, Jr., someone who — as a matter of law — is prohibited from running any charitable foundations because he admitted to the NY Attorney General that he can't be entrusted with other people's money, turned out to be the ideal spokesperson for We Build the Wall. https://t.co/UyoFcNN3UM

— Mrs. Betty Bowers (@BettyBowers) August 20, 2020
This should age well#SloppySteve @DonaldJTrumpJr pic.twitter.com/XdpC8ZX2Ju

— Bahl Sanchin (@BahlSanchin) August 20, 2020
Kinda contradicts " I don't know any people involved with him"@DonaldJTrumpJr pic.twitter.com/zgD92QDkmn

— jerry stearns (@Mexilingus) August 20, 2020
.@DonaldJTrumpJr's We Build the Wall testimonial that this fraud scheme is "private enterprise at its finest" is just 😙👌 pic.twitter.com/HKQyU18dLw

— Matt Ortega (@MattOrtega) August 20, 2020
RELATED: Steve Bannon Could Face 20 Years In Prison After Being Indicted: Fox News Judge