Democrat Amy McGrath Opens Up Lead Over Mitch McConnell In Kentucky Senate Race: Poll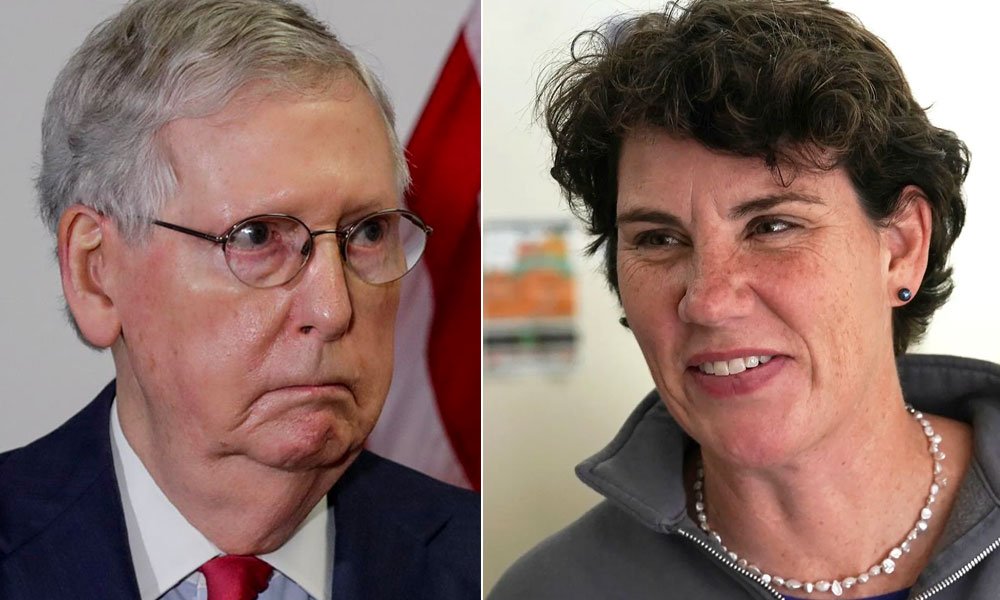 Democratic senatorial candidate Amy McGrath has taken a narrow lead over Senate Majority Leader Mitch McConnell in Kentucky's race, according to a newly released poll conducted by RMG Group.
The survey shows McGrath, a former Marine fighter pilot, with the support of 41 percent of voters, while McConnell is backed by 40 percent. The polling also showed that when voters are informed that McGrath supports congressional term limits while McConnell does not, her lead over the Republican jumps significantly.
With the candidates' positions on term limits factored in, McGrath was backed by 45 percent of respondents, while McConnell was supported by just 30 percent. Seventeen percent of those surveyed were still undecided, and 8 percent said they'd vote for a different candidate, according to the poll.
In response to the poll, McGrath's campaign released a statement, telling Newsweek that "it shows that after 35 years of Mitch McConnell's partisanship and dysfunction, Kentuckians are ready for change. Lieutenant Colonel Amy McGrath believes in ending lifelong careers in the Senate and strongly supports a limit of two terms. Mitch McConnell has proven that being in office for decades has led to the politics of destruction and the Washington, D.C., swamp that everyone hates."
McConnell has proudly claimed the title of "Grim Reaper," boasting publicly about how he has thwarted Democratic legislation, and vowed to block any progressive Democratic legislation brought to the Senate if his party still holds the majority following the November elections.