Capitol Police Officer Allegedly Congratulated Rioters And Said 'It's Your House Now'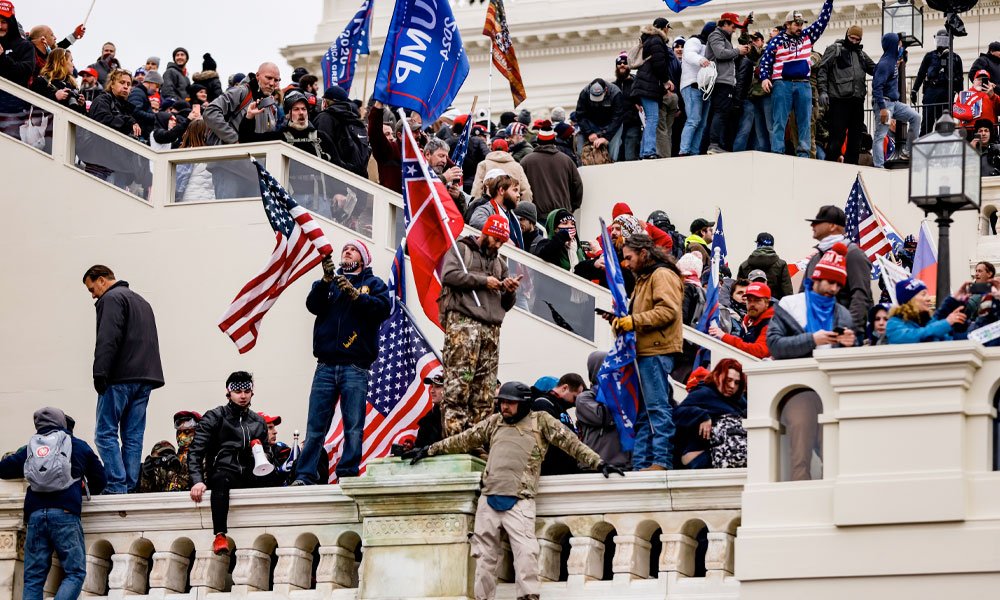 A new report revealed on Friday that a man who took part in the riots at the U.S. Capitol claimed that one police officer welcomed him into the building and congratulated him for the insurrection.
BuzzFeed News justice reporter Zoe Tillman flagged a recently filed criminal complaint against two alleged Trump rioters who both say a Capitol Police officers shook their hands and congratulated them after they broke into the building.
Both Robert L. Bauer and Edward E. Hemenway II, two men who were arrested for taking part in the riots, told nearly identical stories about their encounter with the unidentified police officer.
"Both men remembered encountering a police officer after they entered," prosecutors allege. "According to Bauer, the police officer grabbed his hand, shook it, and said, 'It's your house now.' Bauer believed that the policeman was acting out of fear. Hemenway similarly recalled the officer shaking Hemenway hand and Hemenway said, 'Sorry,' to which the officer replied, 'It's your house now, man,' and gave Hemenway a half-hug."
Newly released charging doc: Man says that after entering the US Capitol, a police officer "grabbed his hand, shook it, and said, "It's your house now.'" https://t.co/pwtecmXD8N pic.twitter.com/kRNpKOWeXk

— Zoe Tillman (@ZoeTillman) January 15, 2021
While no police officers have been charged for allegedly taking part in the insurrection, two officers have been suspended and at least 10 are under investigation for their conduct during the siege, according to CNN.
RELATED: MAGA Rioters Intended To 'Capture And Assassinate' Elected Officials, Prosecutors Say