A Bunch White House Staffers Just Got Accused Of Violating Hatch Act During Trump's Anti-Biden Speech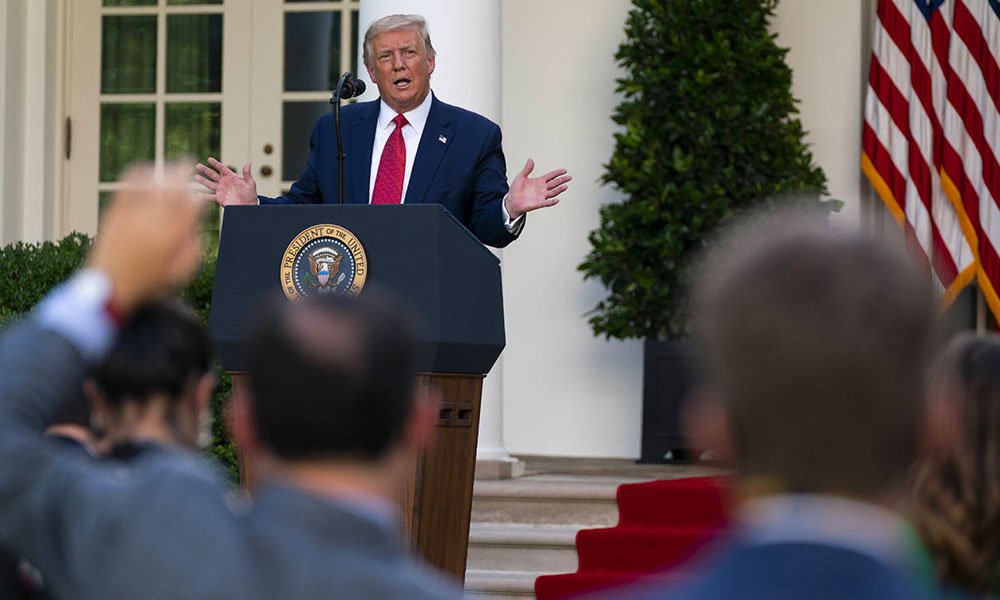 Several White House staffers are under fire after being sucked into President Donald Trump's China press conference in the Rose Garden on Tuesday, which bizarrely devolved into a rally-style political attack on former Vice President Joe Biden.
Trump's use of White House staffers for a political event drew immediate scrutiny, with commenters on social media suggesting it could run afoul of the Hatch Act — which prohibits government employees from attending or participating in political events in their official capacity.
Trump himself is not subject to this law, but any staff who helped him organize the event could be subject to indictment.
Here are some of the reactions:
This is a violation of the Hatch Act to use WH staff for campaign work. Is someone from the Press going to call him on it?

— Mary Chesney (@MChez_NP) July 14, 2020
Every @WhiteHouse official and staffer who was involved in the arrangement and logistics of this press conference is in violation of the Hatch Act. American taxpayers' money is not supposed to be used for what is clearly a campaign event. Don the Crook is stealing from us again.

— Kurt Eichenwald (@kurteichenwald) July 14, 2020
This WH has gone well beyond Hatch violations. By not holding them accountable on a base level, @GOP has cleared a path for crime far and away worse than Hatch.

— Paul Revere's Ghost (@RevereGhost) July 14, 2020
The GOP will suddenly care very much about the Hatch Act the minute Biden becomes President.

They will also suddenly care very much about Coronavirus deaths, unemployment, and the budget deficit then.

But not at all until then.

— JRehling (@JRehling) July 14, 2020
Even Fox News piled on:
NEW: even Fox News admits that that if Obama had delivered a campaign speech from the Rose Garden, Republicans would've been "up in arms."

(And that's without all the lies and conspiracy theories Trump just packed in.) pic.twitter.com/cpf3Vt4erw

— Kaivan Shroff (@KaivanShroff) July 14, 2020
Join the conversation, share your response.