Woman On Trial For Murder Randomly Attacks Her Own Lawyer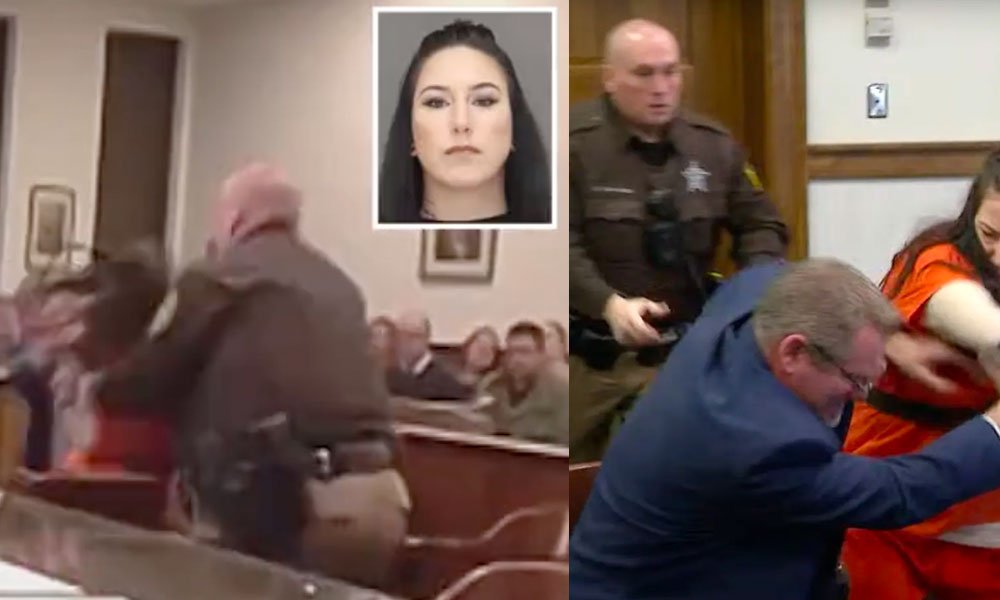 Taylor Schabusiness, 25, a Wisconsin woman accused of decapitating her lover during a wild meth-fueled escapade last year, randomly attacked her own lawyer in the courtroom Tuesday — striking him in the head multiple times until she was restrained by a security guard.
The bizarre blowup came after Schabusiness's defense attorney Quinn Jolly asked the judge for an extension in order to prove his client was not competent to stand trial for the gruesome murder of 25-year-old Shad Thyrion, Law and Crime reported.
Chaotic footage of the violent attack shows the accused killer calmly sitting in the Green Bay courtroom as Judge Thomas J. Walsh recommends starting the murder trial on May 15 instead of March 6 — a suggestion he made at Jolly's request.
Seemingly angered by the decision, Schabusiness suddenly lunged at Jolly, prompting a security guard to Schabusiness to the ground.
Schabusiness — who is married to another man — allegedly decapitated Thyrion during sex, continued to perform sexual acts on his lifeless body, and mutilated his corpse with a serrated bread knife. She was found by police at home covered in blood, records show.
She then stuffed his severed head and penis in a bucket and other body parts in a crock pot, leaving them for his mother to find, prosecutors claim.
She reportedly told cops they would "have fun trying to find all of the organs."
Schabusiness faces charges of first-degree intentional homicide, mutilating a corpse, and third-degree sexual assault.
Yikes…

Married woman accused of decapitating lover after choking him in drug-fueled sex attacks her lawyer when witness fails to show. https://t.co/hEzS65oXqo pic.twitter.com/GdZiAoHzqN

— Molly Ploofkins™ (@Mollyploofkins) February 15, 2023