Trump Suggests FBI 'Planting' Evidence At Mar-a-Lago As Supporters Call For Assassination Of Merrick Garland
Donald Trump, who has orchestrated a fierce backlash against the FBI, the Justice Department and the Biden White House, continued to spew dangerous rhetoric on Wednesday, suggesting that the FBI could have been "planting" evidence at Mar-a-Lago during a raid that the agency carried out at his Mar-a-Lago residence on Monday.
"The FBI and others from the Federal Government would not let anyone, including my lawyers, be anywhere near the areas that were rummaged and otherwise looked at during the raid on Mar-a-Lago," the former president wrote on his social media site Truth Social.
"Everyone was asked to leave the premises, they wanted to be left alone, without any witnesses to see what they were doing, taking or, hopefully not, 'planting.' Why did they STRONGLY insist on having nobody watching them, everybody out? Obama and Clinton were never 'raided,' despite big disputes!"
FBI agents carried out the raid on Monday and seized a dozen boxes as part of an investigation into the handling of presidential documents after a warrant was approved by Florida federal magistrate judge Bruce Reinhart.
The search was reportedly part of an investigation into whether Trump illegally removed or destroyed classified White House documents after he left office in January 2021.
But Trump and his allies in the Republican Party responded to the raid with outrage, with some suggesting the Department of Justice had been politicized by President Joe Biden's administration.
The former president called the raid "an unprecedented infringement of the rights of every American citizen."
"Scam after Scam, year after year, it is all the Radical Left Democrats really know, it is their lifeblood – they have no shame. Our Country is paying a very big price!!!" Trump said on Truth Social.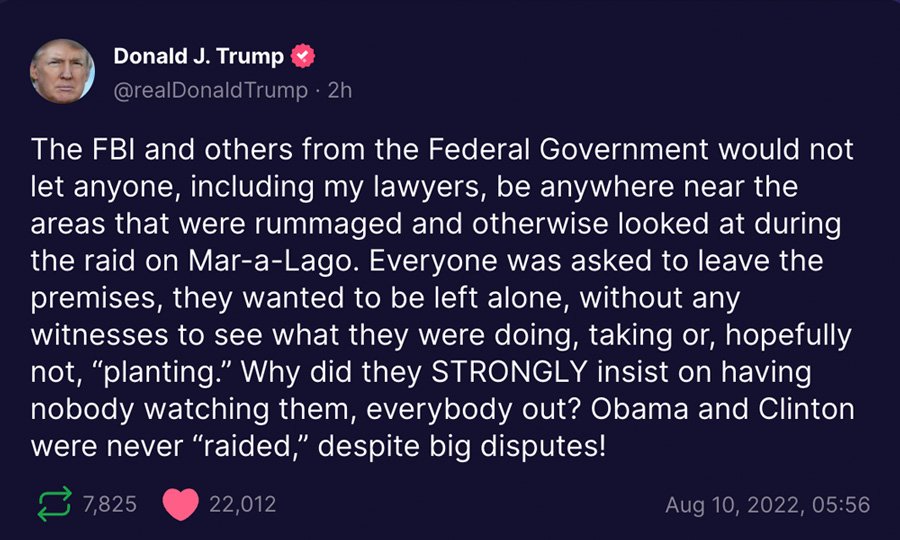 Trump's unhinged rhetoric has caused an extreme reaction from conservative media outlets that supported and enabled him while he was president. And the vitriol continues to pour out on right-wing social media. On one online forum dedicated to Trump, a poster commented: "Lock and load," while another said Garland "needs to be assassinated," according to CNN.
Trump's rhetoric is reminiscent of the violent speech that led up to the Capitol attack.