Trump Promises 'Something Special' As He Vows To Retake The White House 'Sooner Than You Think'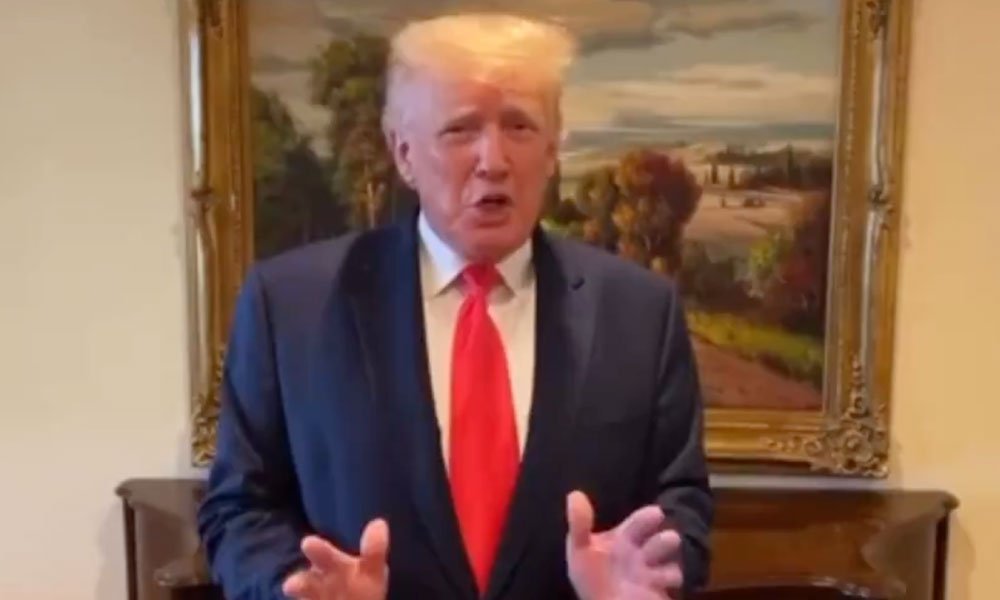 In a video posted to the YouTube channel of the National Republican Senatorial Committee, former President Donald Trump vowed to retake the White House "sooner than you think," adding, "it's going to be really something special."
"I want to thank everybody for the tremendous support you've shown. We're gonna take back the Senate, take back the House, we're gonna take back the White House and sooner than you think," Trump said in the 30-second clip, released ahead of his highly-anticipated speech to the North Carolina Republican Party convention on Saturday.
Trump added: "We're going to turn it around, we're going to turn it around fast. Thank you all very much, that support has been so incredible."
Trump's remarks come amid reports from the New York Times and the Washington Post that Trump believes bizarre election audits in key states will lead to his "reinstatement" by August.
Trump also reportedly believes GOP senators who lost in 2020, such as Martha McSally of Arizona and David Perdue of Georgia, will be reinstated as well – though there is no legal framework for such a development to occur, for Trump or the senators.
The disgraced former president also expressed interest in running for Congress on Friday. "It's very interesting. That's so interesting," Trump said in an interview with right-wing commentator Wayne Allyn Root on Saturday after Root suggested he run for the House to become speaker and obstruct President Joe Biden's agenda – though House membership is not required to become speaker. Trump said others have also urged him to run for Senate.
Watch:
Trump in a fundraising video for the NRSC: "We're gonna take back the Senate, take back the House, we're gonna take back the White House – and sooner than you think. It's going to be really something special…" pic.twitter.com/nAPcc57joj

— Andrew Solender (@AndrewSolender) June 5, 2021