Trump And McConnell Are Going At Each Other In All Out War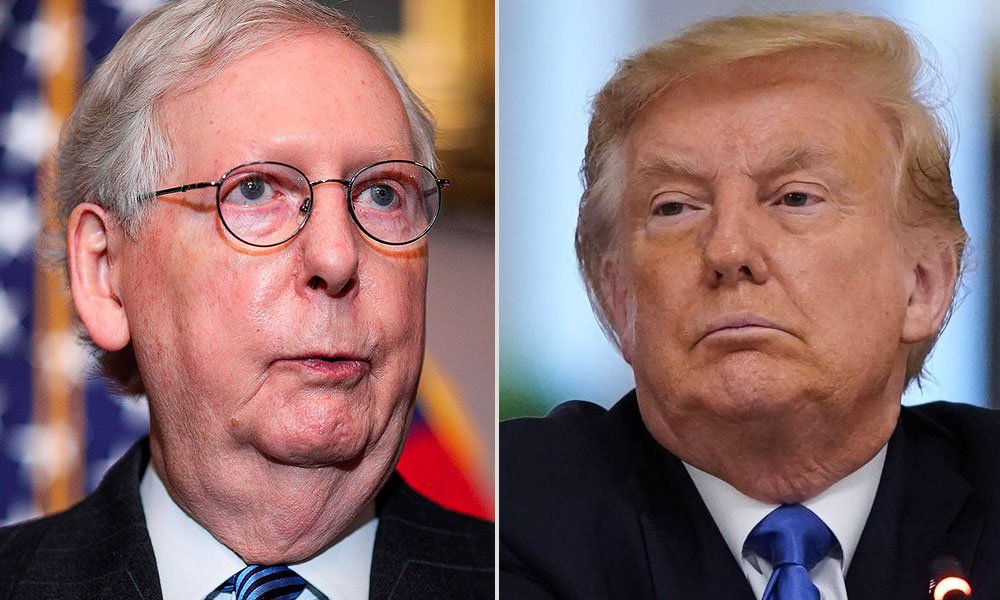 A furious Donald Trump on Tuesday launched a deranged attack against Senate Minority Leader Mitch McConnell, calling him "a dour, sullen, and unsmiling political hack" in a broadside attack just days after the Kentucky Republican ripped Trump in a speech from the Senate floor, blaming the former president for the attack on the U.S. Capitol despite his vote to acquit him in the impeachment trial.
"Mitch is a dour, sullen, and unsmiling political hack, and if Republican Senators are going to stay with him, they will not win again," Trump said in the statement. "He will never do what needs to be done, or what is right for our Country. Where necessary and appropriate, I will back primary rivals who espouse Making America Great Again and our policy of America First. We want brilliant, strong, thoughtful, and compassionate leadership."
Trump blamed McConnel for the party's loss of the Senate majority, saying that "McConnell's dedication to business as usual, status quo policies, together with his lack of political insight, wisdom, skill, and personality, has rapidly driven him from Majority Leader to Minority Leader, and it will only get worse."
In his statement Trump continued to push his baseless claims of election fraud, alleging that in swing states such as Georgia, "McConnell did nothing, and will never do what needs to be done in order to secure a fair and just electoral system into the future. He doesn't have what it takes, never did, and never will."
"He is destroying the Republican side of the Senate, and in so doing, seriously hurting our Country," Trump continued, concluding, "This is a big moment for our country, and we cannot let it pass by using third rate 'leaders' to dictate our future!"
For his part, McConnell continued his attack on the former president, blaming him again for the deadly insurrection on Capitol Hill.
"There is no question former President Trump bears moral responsibility," McConnell wrote in an op-ed in the Wall Street Journal of the riot. "His supporters stormed the Capitol because of the unhinged falsehoods he shouted into the world's largest megaphone. His behavior during and after the chaos was also unconscionable, from attacking Vice President Mike Pence during the riot to praising the criminals after it ended."
McConnell also reiterated his desire to get rid of the former President and Trumpism from the Republican Party.
The feud between Trump and McConnell comes as the Republican Party at large grapples with warring factions at odds over whether to continue in Trump's likeness or forge a path veering from the former President's legacy. It also comes as Trump faces potential criminal charges for his role in the attack.