Three 'Impartial' GOP Jurors Leave Impeachment Proceeding To Meet With Trump's Defense Lawyers Ahead Of Their Rebuttal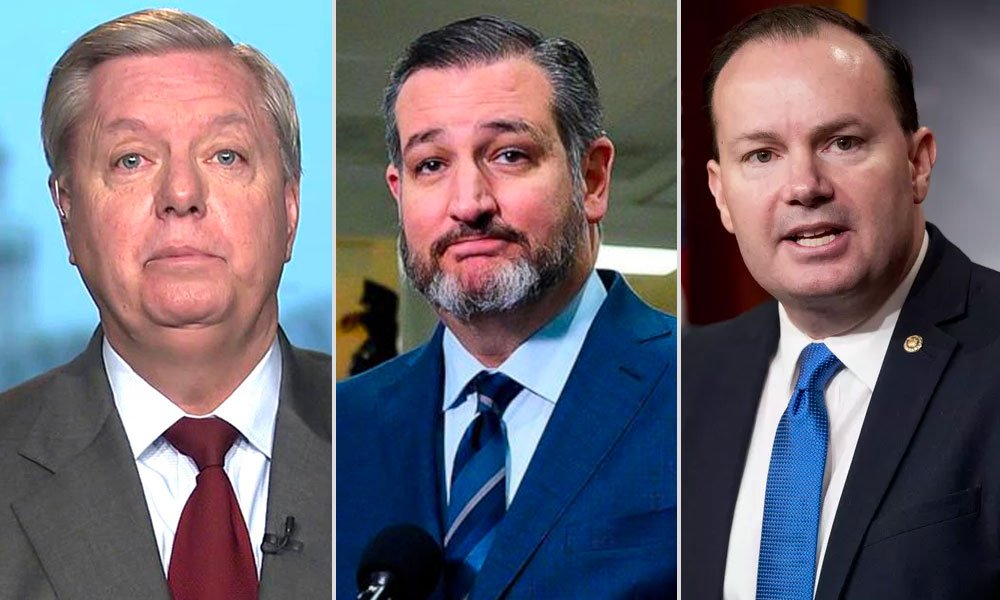 Senators are supposed to be impartial jurors during impeachment proceedings, but that fact didn't stop three Republican senators from meeting with Donald Trump's impeachment lawyers Thursday evening, in the middle of an impeachment trial in which they will vote on whether to convict Trump and potentially bar him from holding public office again.
Senators Lindsey Graham (R-SC) Ted Cruz (R-TX) and Mike Lee (R-UT) were spotted going into a room in the US Capitol that Trump's lawyers were using to prepare for their arguments, CNN reports.
Cruz said the meeting with the Trump defense team was an opportunity for "sharing our thoughts" about their legal strategy.
Trump lawyer David Schoen said that the senators were "very friendly guys" who just wanted to make sure they were "familiar with the procedure" on the eve of their rebuttal to the House impeachment managers' presentation.
When asked if it's appropriate to meet with senators during the trial, Schoen said, "Oh yeah."
Republican senators have already signaled that they will vote to acquit the former President of the charge of "incitement of insurrection," preventing a subsequent vote on Trump's political future. In a 50-50 Senate, the House impeachment managers — all of whom are Democrats — need to persuade 17 Republican senators to join every member of their party to convict Trump.