The Gaetz-Taylor Greene Fundraising Tour Is Actually Losing Money: Report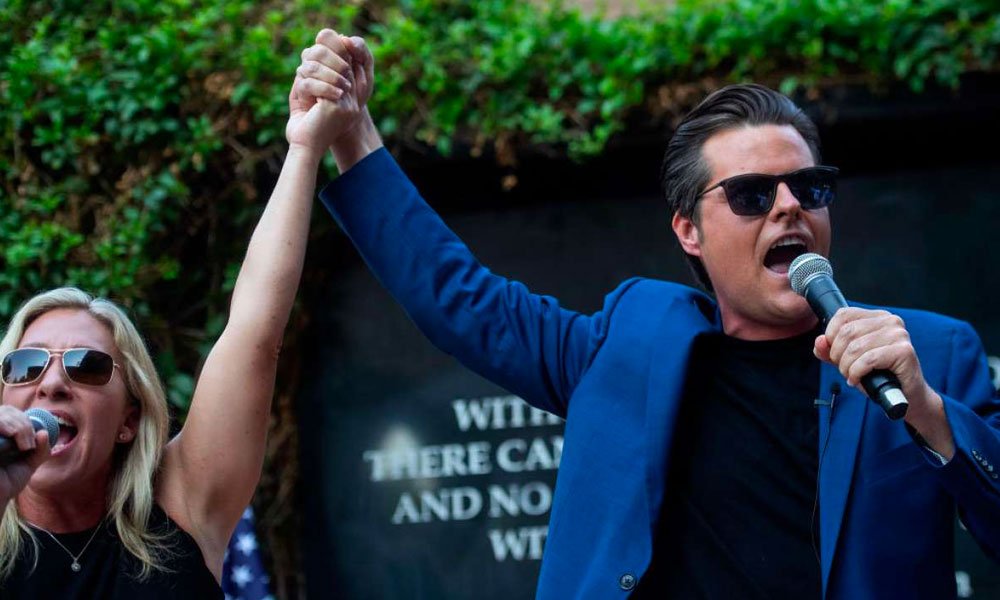 Following the report that GOP Rep. Matt Gaetz is under investigation for sex trafficking, Rep. Marjorie Taylor Greene (R-GA) thought it was a great idea to go on a nationwide joint fundraising tour with her embattled colleague from Florida. However, The Daily Beast is reporting that "new campaign filings show that not only did the gamble not pay off, but that the much-maligned Republicans actually spent four times as much as they raised."
Yeah. Their big "Put America First" fundraising tour has been a flop. Now, as noted by The Beast, "Greene is faced with a decision: She can continue to join forces with her beleaguered ally at the expense of her campaign war chest, or she can cut bait and let Gaetz fend for himself."
According to recent filings with the Federal Election Commission, Gaetz and Greene's campaigns and joint fundraising committee have posted a combined loss of $342,000 since they kicked off their joint fundraising committee with a May 7 event at The Villages in central Florida. In contrast, their joint fundraising effort, "Put America First," reported only $59,345.54 in contributions.
As noted by The Beast, "that sort of meager haul would be fine for a dinner or one-time event, but Gaetz and Greene have repeatedly held high-profile events and spent a whopping $287,036.19 to hold them—meaning they're in the hole by more than $225,000."
According to the report, "both Gaetz and Greene contributed $150,000 apiece from their own campaigns to the joint fundraising committee. And they've raised money almost entirely from small-dollar donors. Only four people gave $500 or more to the shared committee. But their campaign tour of some of the most Trump-friendly areas in the nation has been inordinately expensive."
In fact, The Beast notes, "the big winner from the Gaetz and Greene barnstorming appears to be Gaetz's PR firm."
The Logan Circle Group, which the campaign hired in early April, made off with more than a million dollars in the second quarter of 2021. While the majority of that money came from Gaetz—$825,000 over the course of one month—the firm nudged past the million-dollar mark with the $250,000 it received from Put America First. Those payments, nearly 90 percent of the committee's total budget, were for "event production and management," according to FEC filings.
A Gaetz spokesperson defended the congressman's fundraising performance.
"Despite an endless stream of lies from the media, Congressman Gaetz continues to be among the most prodigious fundraisers in Congress and is the only Republican who doesn't accept donations from federal lobbyists or PACs," the spokesperson said in a text message. Gaetz, a three-term congressman representing a deep-red district in the Florida panhandle, hadn't raised more than a million dollars in a quarter until October 2020.
"He thanks his tens of thousands of donors and promises to always fight for them," this spokesperson added.
Greene and Gaetz, arguably the two most controversial House Republicans, were united this spring by scandals that had not only alienated them from the mainstream, but left them isolated within their own party.