'The Enemy Is You': Taylor Greene Demolished After Calling Democrats The 'Enemy Within'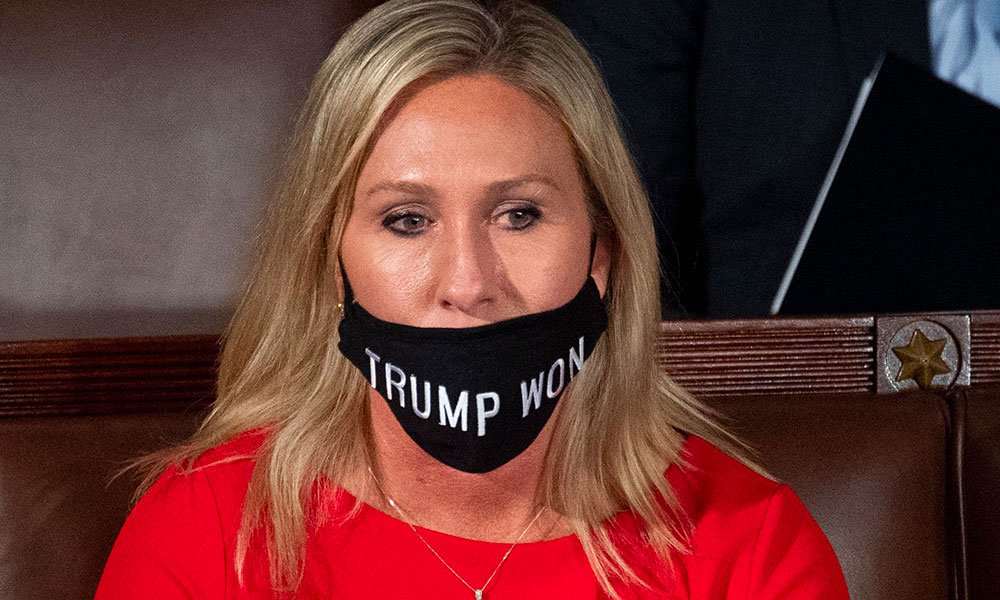 Rep. Marjorie Taylor Greene, of Georgia, sparked a fierce backlash on Saturday after firing off a tweet attacking Democrats as "the enemy within."
"Yes there is an enemy within," the QAnon Republican declared in her tweet. "And that enemy is a poisonous rot of socialist policies and America last sell outs who are pompous hypocrites that believe they are untouchable elites."
Greene's comments came during an extended rant as embers of both parties continue to condemn her for peddling conspiracy theories and promoting violence against Democrats.
Democrats have begun pushing for hearings in order to remove Greene from the House.
Twitter users were quick to respond To Greene's comments, and they didn't mince words.
Yes there is an enemy within.

And that enemy is a poisonous rot of socialist policies and America last sell outs who are pompous hypocrites that believe they are untouchable elites.

Cont'd…

— Marjorie Taylor Greene 🇺🇸 (@mtgreenee) January 30, 2021
You just keep on spreading division…

You thrive on it…

It's a sign of weakness and lack of intelligence …

Julius Ceasar tried the same thing: "Divide et impera"
(you'll have to look that one up, for sure). pic.twitter.com/WXkiOtBOU6

— Hubert Linssen (@HubertLinssen1) January 30, 2021
Enemies like those that attacked the capitol, enemies that excuse their behaviour, and enemies that instigated the entire attack.

These enemies are traitors and terrorists, the real question is are you with them or with Americans

— Chase Tamsett (@ChaseTamsett) January 31, 2021
The enemy within is worried about the enemies within. Classic.

— Nepid 🌊🇺🇲 (@Nepiddd) January 31, 2021
Joke is on you. Here's you describing yourself and the GOP. pic.twitter.com/sDpa1ceYrU

— Alyssa Montaño (@alyssa_noelle9) January 30, 2021
Wow, you squeezed a lot word garbage in that one. pic.twitter.com/EMtB1rbi3J

— jenkins (@jenkins17606170) January 30, 2021
Remind me… How much PPP money did you take. You do understand that program was socialism, right?

— Lilija martinka (@lilija_martinka) January 31, 2021
never seen a better impression of fascism pic.twitter.com/6TspK6Hazn

— Mike Byrd (@micchiato) January 30, 2021
— Tom Joad (@TomJoad1977) January 31, 2021
That enemy is you (among others). But not the ones you accuse.

— Michael Ostroff (@ostroff_michael) January 31, 2021
You don't know what the term socialism even means.

— JAO (@JulieAnneEsq) January 31, 2021
Actually, the enemy within is YOU!

— Peter Asplnwall (@asplnwall) January 31, 2021
Yes and that enemy is you. Are you describing yourself ?

— Peggy Dudzick (@PDudzick) January 31, 2021
— Emily (@EmGeeSanDiego) January 31, 2021