'That's a Freakin' Great Idea': Matt Gaetz Threatens To Resign And People Are Ok With It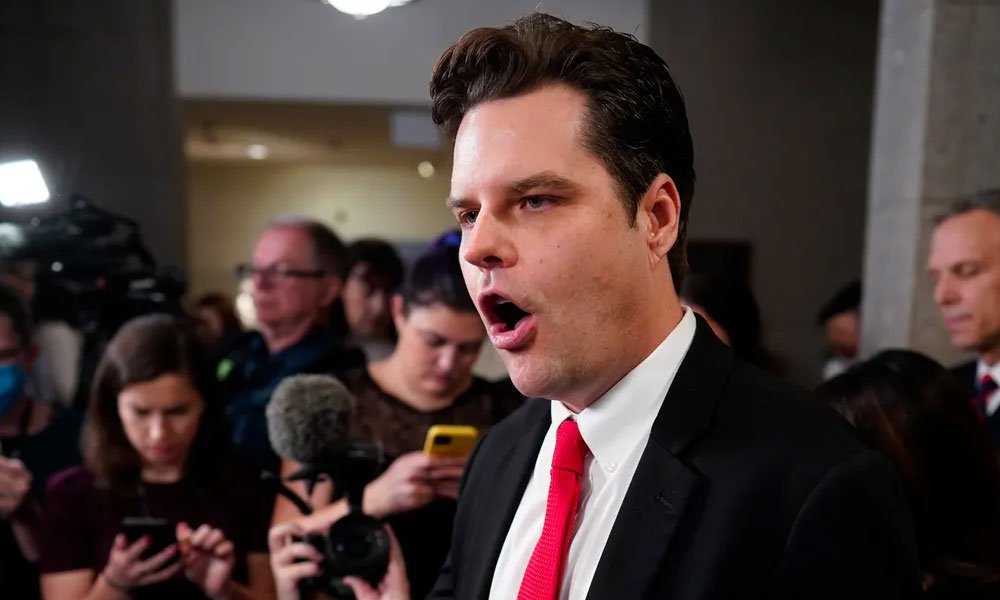 Florida Representative Rep. Matt Gaetz (R), one of the main opponents to House GOP leader Kevin McCarthy becoming Speaker, said Thursday that he "will resign" from Congress if Democrats help to elect a moderate Republican Speaker instead.
The comments from Gaetz came during an interview with Laura Ingraham after the Fox News host asked him if he would be alright with an outcome in which there's "ultimately a deal" struck with moderate Democrats on a consensus candidate in exchange for some kind of co-control of House committees.
Gaetz said he is "certain" that the House Democrats will not break ranks and vote for a moderate Republican for Speaker.
"I'm on the floor, Laura. These 212 Democrats are going to vote for Hakeem Jeffries every single time. He is a historic candidate for them. They are not going to cleave off under any circumstance. I assure you that if Democrats join up to elect a moderate Republican, I will resign from the House of Representatives," Gaetz said.
"That is how certain I am I can assure your viewers that won't happen," he added.
Ingraham pointed out that McCarthy has made several concessions to try to win over support from the holdouts, including agreements to place more members of the ultra-conservative House Freedom Caucus onto the House Rules Committee and to allow floor votes on congressional term limits.
But Gaetz said he "would not bet" on him casting his vote for McCarthy under "almost any circumstance" and predicted that if McCarthy is finally elected he will have "to live the entirety of his speakership in a straight jacket constructed by the rules" they are discussing.
Naturally, Twitter users welcomed Gaetz's "very tempting" offer to resign and sent him some words of encouragement.
Watch the interview and some of the reactions below.
BREAKING: Rep. @MattGaetz:

"If Democrats join up to elect a moderate Republican, I will resign from the House of Representatives" pic.twitter.com/UEIirVUco6

— ALX 🇺🇸 (@alx) January 6, 2023
I think Kevin just got 30 votes from the left.
Just to get Matt to resign.

— George Orwell*(Parody)🤐 (@ric22812704) January 6, 2023
This seems like a very tempting offer.

— Michael Atkins (@atkinsmike1) January 6, 2023
I don't see how that's a problem…
🤷🏻‍♀️ pic.twitter.com/IO62r47iFE

— Xochitl & Frodo 👑🐪🐫🐪🎄❤️💚 (@xochiPTX) January 6, 2023
So it's a win-win!!!!!

— Rob (@PhinsAndHeat) January 6, 2023
Well, there's some incentive!

— Mitchtoy (@mitchcooper1) January 6, 2023
We can only hope

— HiDadSoup (@HiSoup3) January 6, 2023
Please and thank you.

— Izuku 🇺🇸🇵🇷🇦🇷🇦🇷🇦🇷🇦🇷 (@ldd__16) January 6, 2023
Please do!

— Karen Smith (@KarenSm02609781) January 6, 2023
OMG is that a promise?

— Richard Kennard – boardsi (@kennardiii) January 6, 2023
That's a deal Matt.

— LC 🇺🇸🇺🇦 (@LCain64103138) January 6, 2023
I accept your resignation.

— Mike Hachquet (@mycasket) January 6, 2023