Ron DeSantis Loses It In '60 Minutes' After Being Confronted For Funneling COVID Vaccines To Donors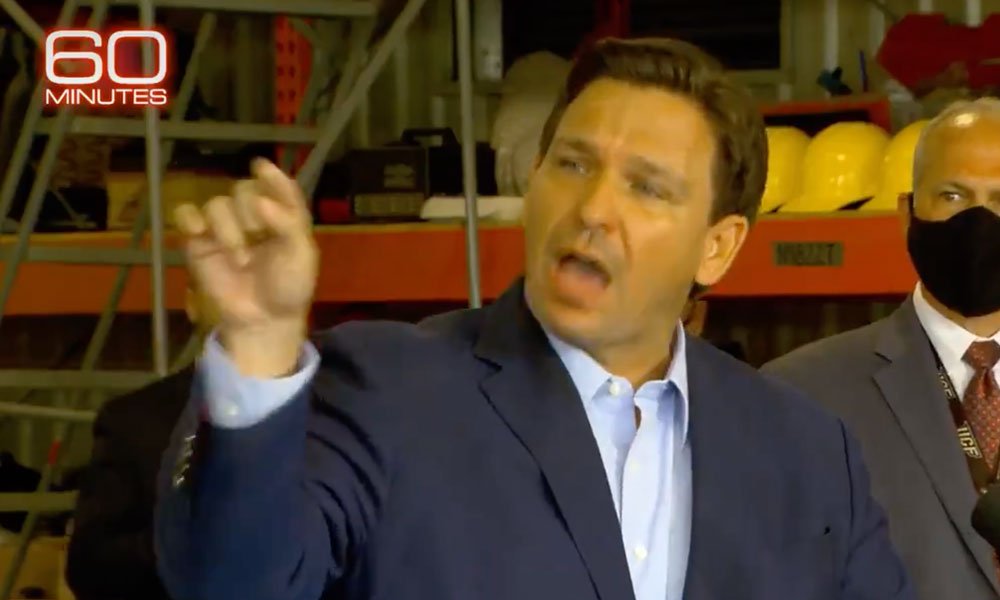 Florida Gov. Ron DeSantis (R) lashed out at CBS reporter Sharyn Alfonsi after she asked him about a recent report from "60 Minutes" alleging he funneled the state's coronavirus vaccines to rich communities and privatized the vaccine rollout to benefit donors while many minorities in the state struggle to obtain access to the antibodies.
During the exchange, Alfonsi presented a far-ranging report for "60 Minutes" Sunday evening critical of Florida's vaccine rollout. Among other allegations, Alfonsi said DeSantis gave a contract to distribute coronavirus vaccines to the grocery store chain Publix after Publix made a $100,000 donation to his political action committee.
DeSantis declined a request for an interview, Alfonsi said, but she caught up with him at an event south of Orlando.
"Publix as you know donated $100,000 to your campaign and then you rewarded them with the exclusive rights to distribute the vaccine in Palm Beach," Alfonsi told the governor.
"So first of all what you're saying is wrong," a visibly annoyed DeSantis replied. "That's a fake narrative," he said before adding: "I met with the county mayor. I met with the administrator. I met with all the folks in Palm Beach County and I said, 'here's some of the options. We can do more drive-thru sites. We can give more to hospitals. We can do the Publix.' And they said, 'We think that would be the easiest thing for our residents.'"
Alfonsi pressed DeSantis, saying his critics say the inequitable vaccine distribution and awarding of the contract to the grocery store to distribute the vaccine amounts to a "pay for play" scheme.
"It's wrong, it's a fake narrative," DeSantis said. "I just disabused you of the narrative and you don't care about the facts because obviously I just laid it out for you in a way that is irrefutable. So clearly it's not."
Alfonsi attempted to chime in again, but DeSantis shouted over her: "No no no you're wrong you're wrong you're wrong."
The accusations regarding Publix come as DeSantis is already under fire for Florida's vaccine rollout. He's been accused of funneling vaccine doses to wealthy, white communities and steering pop-up vaccine sites to communities associated with political donors.
Watch the video below:
"What you're saying is wrong," Gov DeSantis tells Sharyn Alfonsi in response to a question about whether the Publix grocery store chain gained influence through a campaign donation on his behalf. "It's wrong. It's a fake narrative," he says. https://t.co/gyrW9hYPTg pic.twitter.com/5rBq7v5VOA

— 60 Minutes (@60Minutes) April 4, 2021