Pro-Trump Attorney Who Pointed Gun At BLM Protest Gets Trounced In Missouri GOP Primary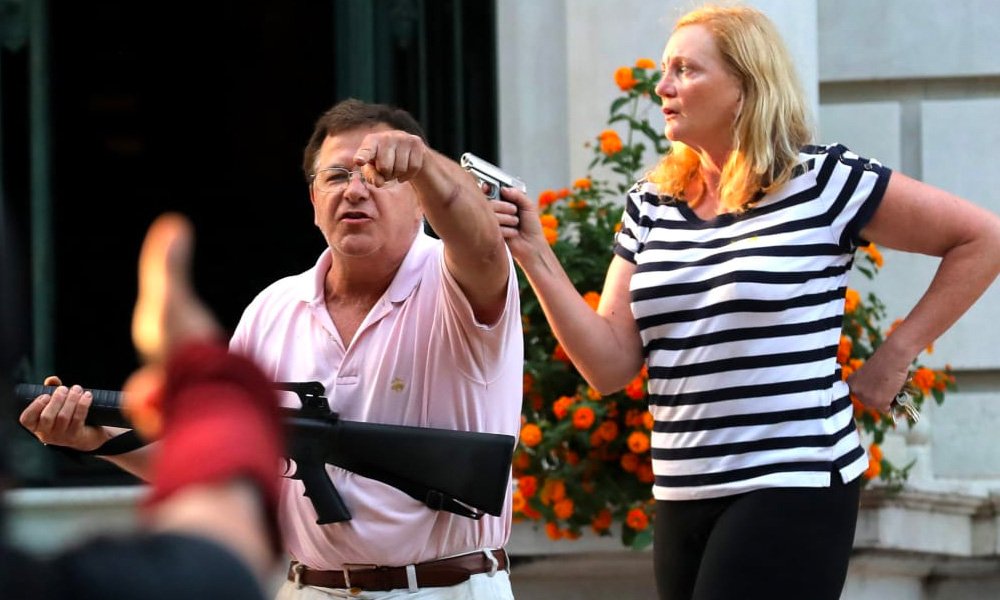 Attorney Mark McCloskey, who was thrown into the spotlight after he and his wife pointed guns at Black Lives Matter protesters for walking in front of their home, was utterly crushed on Tuesday in Missouri's Republican primary for the Senate.
After becoming a MAGA celebrity, the pro-Trump attorney joined the crowded field of 21 Republicans running for GOP Senator Roy Blunt's seat after Blunt announced last year that he would not run for reelection.
All the candidates on the ballot were Donald Trump supporters and 2020 election deniers. But in a final push for votes ahead of Tuesday's primary, McCloskey touted himself as the only "genuine MAGA" candidate after the former president endorsed "Eric" in the race, despite three candidates in the race having that name.
"Apparently Donald Trump's endorsed all three of them," McCloskey said in a video posted on Twitter. "Well, my name is Mark McCloskey, and I can tell you one thing, there's one genuine MAGA, America first, strong border, law and order, real American patriot in this race, and that's me."
As reported by Newsweek, "Missouri Attorney General Eric Schmitt easily won the race. McCloskey, meanwhile, trailed in fifth place with just 3 percent of the vote."
No Eric, but an all-American Patriot!#VoteForMcCloskeyhttps://t.co/OOGth3Tqxy pic.twitter.com/qkyuA09Pgd

— Mark McCloskey (@mccloskeyusa) August 2, 2022