Police Officer Scrambles To Save His Life As 18-Wheeler Loses Control, Slamming Into Multi-Vehicle Pileup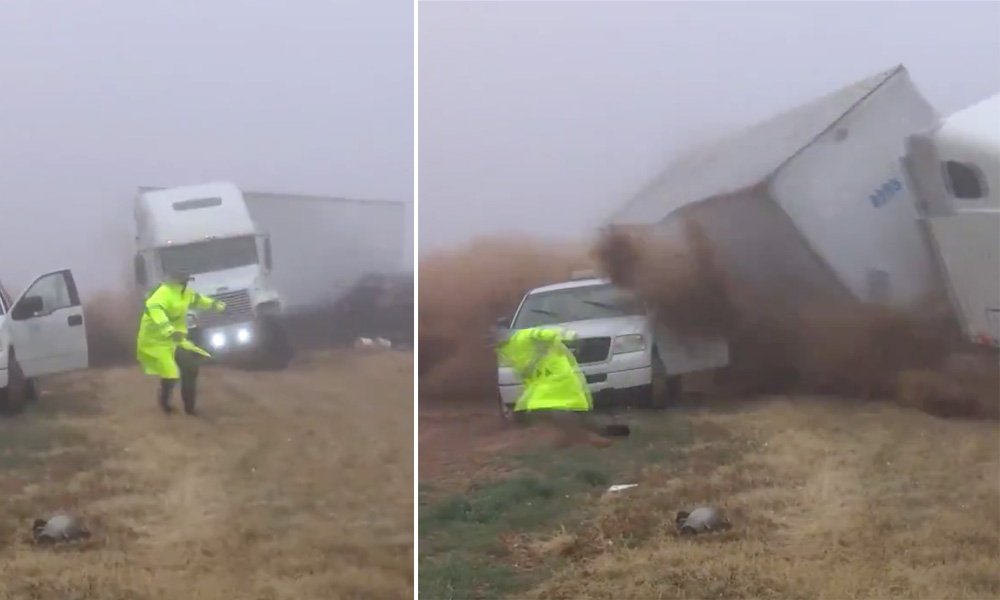 A dramatic video has emerged online showing an 18-wheel tractor-trailer losing control and slamming into a multi-vehicle pileup in Texas on Friday.
According to local station KCBD, the accident began as a two-car crash on Highway 84 in Lubbock County.
Police were investigating the crash when a semi-truck traveling eastbound jackknifed and slid, coming to rest at the center median. Several more vehicles subsequently crashed into the truck as the area was under a dense fog advisory at the time.
Caleb Holder, a KCBD photographer, was filming the accident scene when a second 18-wheeler jackknifed to avoid a red SUV that changed lanes in front of it.
The video shows the truck swerving off the road and rolling over on its side, striking several vehicles as it slid into a ditch directly in front of Holder.
Several law enforcement officers scrambled to get out of the way as the semi barreled off the road.
The accidents occurred in the midst of a dense fog advisory for the area, causing a quarter mile or less of visibility. Drivers were advised to slow down to prevent injury.
Watch the video below, via KCBD
EXCLUSIVE VIDEO: KCBD crew captures video of semi crash on Slaton Highway. – Full story here: https://t.co/xb48usLmz4 pic.twitter.com/MMzf9rKQEf

— KCBD NewsChannel11 (@KCBD11) December 27, 2019