Officer Fanone Calls Kevin McCarthy a 'F**king Weasel B*tch With a Fake Spray-On Tan'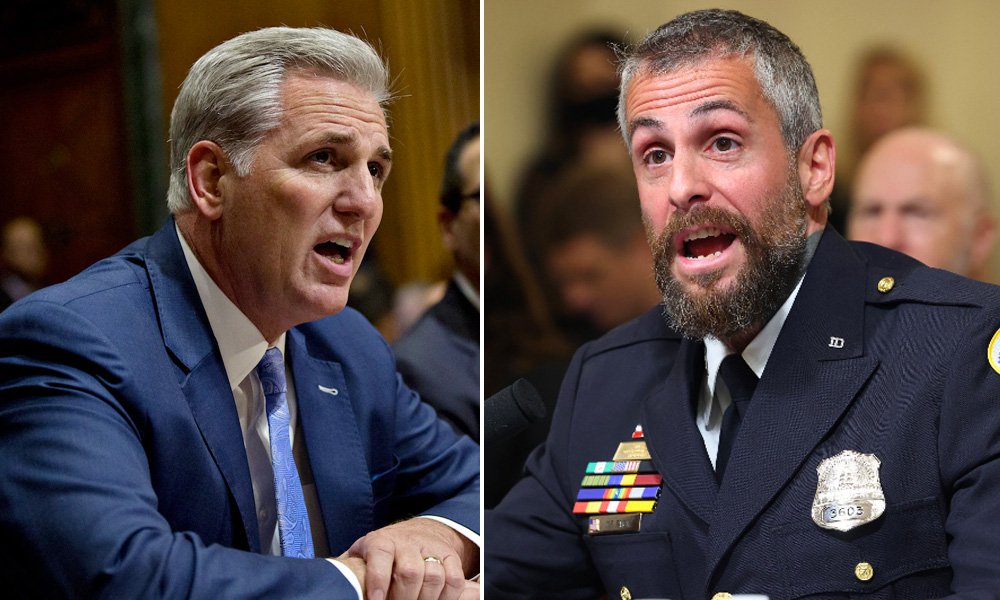 Former Washington, DC police officer Michael Fanone, who was seriously hurt at the US Capitol during the January 6 attack by a mob of Donald Trump supporters, called Republican House leader, and potentially the next speaker, Kevin McCarthy, a "fucking weasel bitch with a fake spray-on tan."
"I think at night, when the lights are turned off, Abe Lincoln and Ronald Reagan have some pretty choice words to say about the fact that they have to hang on Kevin McCarthy's wall," Fanone told The Rolling Stone in an interview.
"They did some fucking above-average things. And they've got to adorn the wall of this fucking weasel bitch named Kevin McCarthy, with his fake fucking spray-on tan, whose fucking claim to fame, at least in my eyes, is the fact that he amassed a collection of Donald Trump's favorite-flavored Starburst, put them in a Mason jar, and presented them to fucking Donald Trump," Fanone said.
"What the fuck, dude?"
The former officer, who suffered a traumatic brain injury during the attack, has since left the police and emerged, with other officers, as a key witness in hearings held by the House January 6 committee. The riot has been linked to nine deaths, including suicides among law enforcement officers. More than 900 rioters have been charged, some with seditious conspiracy.
In his extraordinarily candid and profane interview, Fanone also had harsh words for far-right Republicans including Marjorie Taylor Greene ("Put her in the tinfoil-hat brigade") and Josh Hawley.
"He comes down there, flashes the sign of solidarity, [and] riles up this fucking crowd," Fanone said of Hawley.
"I would've had more respect for him if he said, 'Charge,' and fucking rushed the first fucking group of police officers that he could possibly fucking find. But he didn't. He ran like a bitch as fast as he fucking could to the closest safe room in the fucking Capitol building."
Among other startling footage from the Capitol on January 6, the House committee has shown security video in which Hawley is seen running through the Capitol as the mob breaks in.
He also said he does not want to be thought of as an American hero, in part because "Motherfuckers think [former vice-president] Mike Pence is a goddamn hero" for resisting Trump's scheme to stay in power, and "don't lump me in with that fucking pathetic coward".
Read the full interview at The Rolling Stone.