MAGA Rioter Who Carried Confederate Flag Into U.S. Capitol Arrested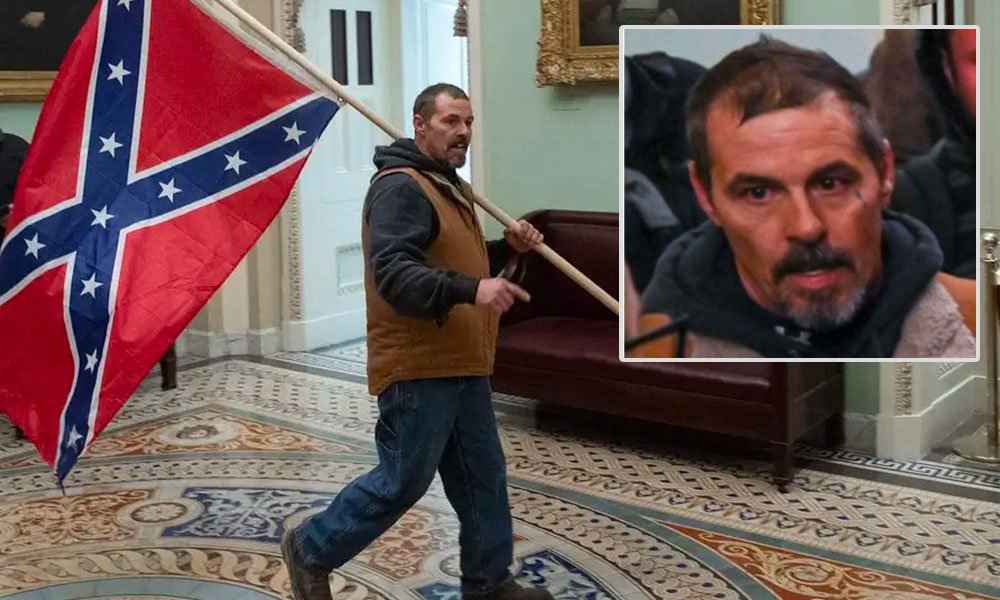 A supporter of President Donald Trump who was photographed inside the U.S. Capitol carrying a Confederate Flag during a violent assault on the building has been arrested in Delaware, The New York Times reports.
Authorities identified the man as Kevin Seefried. He was arrested after the FBI circulated images of him saying that it was looking for assistance to identify individuals "who made unlawful entry" into the Capitol.
As noted by The Times, "The F.B.I. had received more than 126,000 photographic and video tips as of earlier this week, as agents also scrubbed airline passenger manifests and video of air travelers to and from Washington to find potential suspects. The top federal prosecutor in Washington said this week that he expected the number of people charged with crimes tied to the Capitol riot to rise into the hundreds."
Democratic congressman Bennie Thompson, of Michigan, who chairs the House Homeland Security Committee, said that he was stunned to see the Confederate flag in the U.S. Capitol
"It's hard for Donald Trump and his kind to pretend that they don't see race or that they're not racist when the symbol of the people you have invited here is the Confederate battle flag or the Trump 2020 flag," he told the USA TODAY. "For a lot of us, they're synonymous."
#FBIWFO is seeking the public's assistance in identifying this individual who made unlawful entry into US Capitol on Jan. 6. If you witnessed unlawful violent actions contact the #FBI at 1-800-CALL-FBI or submit photos/videos at https://t.co/NNj84wkNJP. https://t.co/Dxyb7kweea pic.twitter.com/DSbXkNx0Il

— FBI Washington Field (@FBIWFO) January 11, 2021