Lauren Boebert Gets Chewed Up And Spat Out Over Ludicrous Tweet About Trump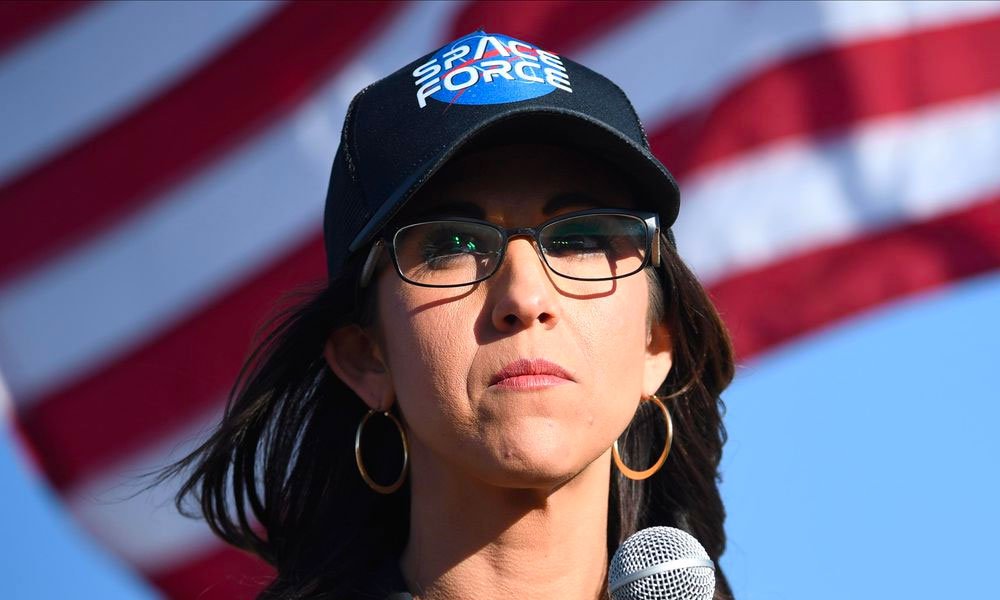 On Friday, QAnon-endorsing lawmaker Lauren Boebert (R-CO) triggered an avalanche of blistering responses after she put her devotion to ex-President Donald Trump on full display on Twitter by suggesting he was never wrong.
The sycophantic lawmaker with a penchant for posting inflammatory and often-ridiculed messages on Twitter wrote:
"President Trump wasn't politically correct. He was just correct."
Twitter users were quick to remind Boebert of the thousands of lies Trump told during his time in office, his administration's disastrous handling of the coronavirus pandemic, and his 2020 election conspiracy theories.
President Trump wasn't politically correct. He was just correct.

— Lauren Boebert (@laurenboebert) May 14, 2021
The hoax? The virus will just magically disappear? Mexico will pay for the wall? Grab them by the p*ssy? Tax fraud? Bank fraud? Trump University?

— Democracy Restored (@GhostOfDemocra2) May 14, 2021
When was he correct?
He was wrong about Covid
He was wrong about the election
He was wrong about A LOT of things.
The only good thing he did was playing golf, because that meant he wasn't ruining the country even more.

— Andiders (@Andiders) May 14, 2021
Trumps false and misleading claims total over 30,000 in 4 years. This tweet has to be a joke right? https://t.co/UWJy3iGImc

— Amanda King (she/her)(vaxxed) (@EffinLeftMama) May 14, 2021
You mean Ex President. Presidents don't live in hotels . They live in the White house as Biden does

— Florimshala (@Florimshala3) May 15, 2021
On? pic.twitter.com/yNAJ6ADwIy

— Can't republican anymore (@RistineMark) May 15, 2021
And 500,000 Americans needlessly died over his correctness.

— T. witter's ucking me again. (@Blacksmitheart) May 14, 2021
Correct about what? The pandemic? Putin? Kim? Mexico paying for the wall? Infrastructure week? A healthcare deal? Answer: Almost nothing.

— BKay (@brunkay27) May 14, 2021
Lol I can't think of a single time he was correct. I mean literally, not once. Kinda like you….

— DiscordiaIII (@DiscordiaI) May 14, 2021
No, he really wasn't. We lost the trade war (farmers were so happy). The tax cuts did not pay for themselves. The virus did not magically disappear. The "wall" fell down and didn't work. No healthcare plan, ever. No Infrastructure plan, ever. Where was he correct?

— Allen Altcoin (@AllenAltcoin) May 15, 2021
"I love the poorly educated" you mean that part? Wasn't right about anything else.

— Will Koenig (@freeski305) May 14, 2021
Well, 81,000,000+ Americans voted to indicate otherwise. Womp womp.

— sureJan🖤🏴‍☠️🌵 (@CO_jan40) May 14, 2021
Oh yeah? How did injecting bleach work out?

— Sam Mace (@swmace) May 14, 2021
He was correct about one thing… pic.twitter.com/LsOxzqush1

— ☕ Coffee ☕ (@CoffeeForever5) May 14, 2021