Kentucky Voters Demand Entrance After Being Locked Out Of Polling Station On Election Day: Watch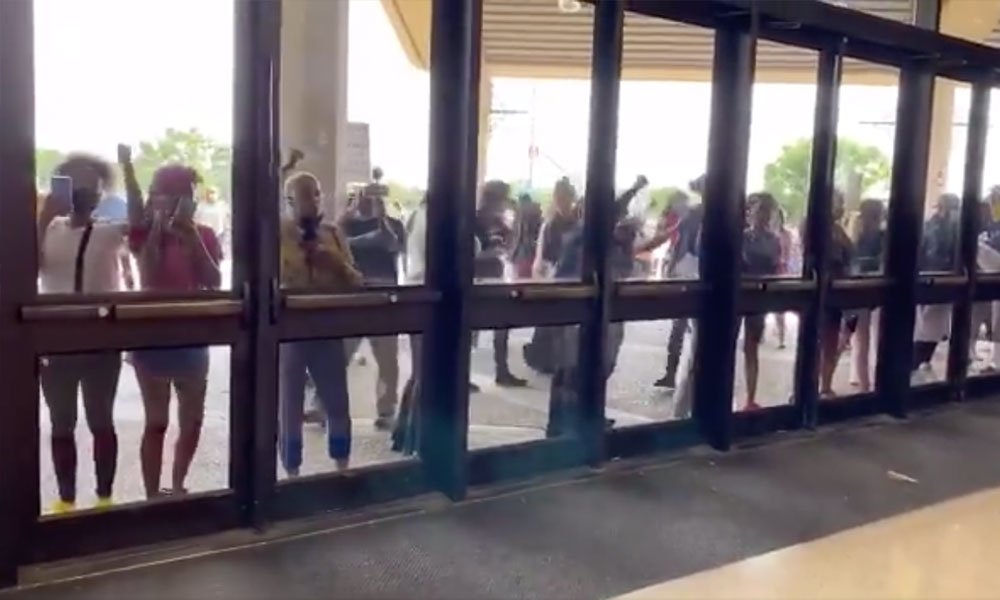 A judge had to intervene and ordered an injunction that forced the only polling place in Louisville, Kentucky, to keep its doors open for another half an hour after voters were locked out despite arriving on time.
Judge ruled that anyone on the pavement outside the door was in line and could vote.

— Joe Sonka 😐 (@joesonka) June 23, 2020
Kentucky had limited polling stations after the state decided to shut down 95 percent of its polling stations ahead of Tuesday's primary election.
Kentucky has among the strictest voting deadlines in the country, with polls closing at 6 pm ET.
The injunction by the judge came after people started protesting when they were locked out of the polling station.
Although state laws generally count anyone who got in line before the polls closed as still eligible to vote, problems arose because several people reportedly had to wait up to half an hour to park — with some of them arriving well before polls closed but not making it to the door until three minutes after.
Below, you can see videos and images of the event.
ALL THESE VOTERS HAVE BEEN LOCKED OUTSIDE THE EXPO CENTER IN LOUISVILLE WHEN THEY WERE IN LINE AT 6PM.

Booker campaign has filed an injunction demanding anybody in line or in line to park is able to vote. pic.twitter.com/GmDo5XxSsR

— Becca Rast (@BeccaRast) June 23, 2020
Many people now locked out of voting in Louisville…doors closed at 6pm sharp in Kentucky. They are telling @WCKitchen team they arrived before but traffic was backed up getting into Exposition Center & 30 mins just to get to parking lot… #ChefsForDemocracy pic.twitter.com/32dtxQ1kZQ

— José Andrés (@chefjoseandres) June 23, 2020
The people want to vote. pic.twitter.com/ATYDrQcS3L

— jacob ryan (@jacobhryan) June 23, 2020
This is completely unacceptable. If you are in line, you should be allowed to vote. https://t.co/J3NmX8rzrQ

— Niles Edward Francis (@NilesGApol) June 23, 2020
RELATED: Biden Widens His Lead Over Trump In Latest Nationwide Poll