Judge Blocks DeVos From Taking Relief Funds Away From Public Schools To Send To Wealthy Private Schools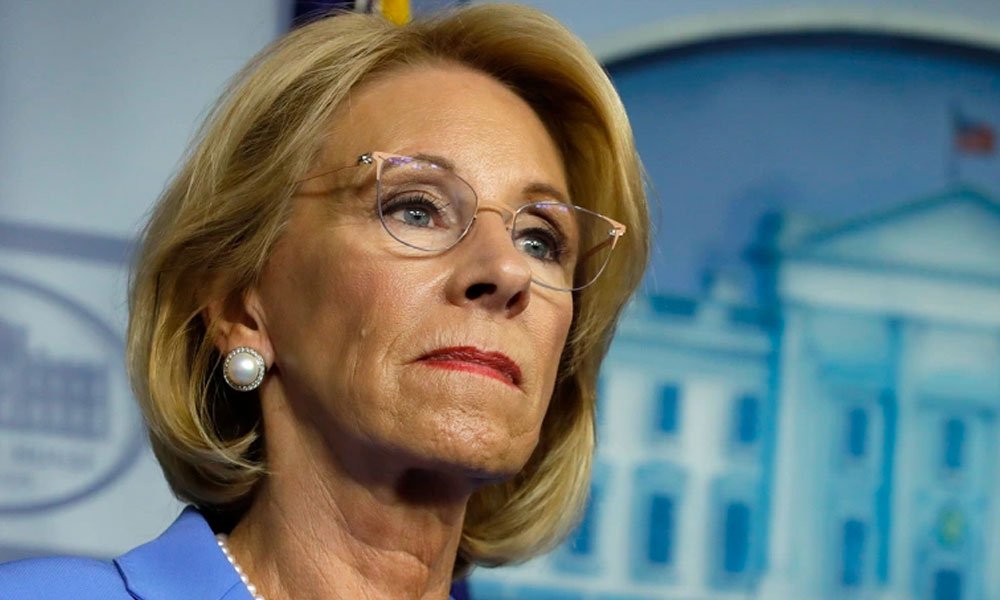 On Wednesday, a federal judge in California blocked Education Secretary Betsy DeVos' effort to take away emergency coronavirus relief funding from cash-strapped public schools to send to it wealthy private schools.
According to Politico, U.S. District Judge James Donato's ruling prevents DeVos from carrying out her plan in a large swath of the country: Michigan, California, Hawaii, Maine, Maryland, New Mexico, Pennsylvania, Wisconsin, the District of Columbia as well as for public school districts in New York City, Chicago, Cleveland and San Francisco.
Last week a federal judge in Washington state similarly blocked DeVos' rule, but there has been a dispute about whether that order applies nationwide. DeVos separately on Wednesday evening sought clarification from that judge about the order.
The pair of rulings amount to a major setback for DeVos, as she seeks to oversee the roughly $16 billion pot of emergency assistance Congress laid out for K-12 schools in the CARES Act in March.
Dana Nessel, the attorney general of Michigan, who led the legal challenge, praised the court's ruling in a tweet on Wednesday, calling it a "Big win for Michigan kids."
An attorney arguing the case for Nessel argued during a hearing last week that the states were seeking to stop DeVos from acting as a "reverse Robin Hood" in taking funding away from cash-strapped public schools to send to wealthy private schools.
Judge Donato agrees and ruled that DeVos lacks the legal authority to impose her own conditions on coronavirus relief funding for K-12 schools. He wrote in the 15-page decision that "allowing the Department to rewrite the statutory formula for sharing education funds is manifestly not in the public interest."
You can read more on Politico.